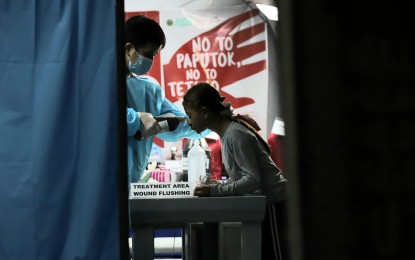 MANILA – The Department of Health (DOH) on Friday reported a total of 50 revelry-related injuries from Dec. 21, 2020 to Jan. 1, 2021, with no cases of firework ingestion and deaths.
Of the 50 injuries, 49 were fireworks-related injuries and one was a stray bullet injury. This is 85 percent lower than the 340 total cases reported last year. Likewise, the number of cases this year is 89 percent lower than the five-year average (2015-2019).
Of the total cases nationwide, the National Capital Region (NCR) reported the highest number (22 cases), followed by Calabarzon (five cases), and Ilocos Region, Bicol, and Western Visayas (four each). In NCR, Manila had the most number of injuries (12 cases), followed by Caloocan (four cases), Pasig and Quezon City (two cases each), and Malabon and Marikina (one case each). Overall, NCR registered an 88 percent decrease in the number of injuries compared to the previous year.
Ages of injuries ranged from four to 53 years old wherein the most affected age group is between 10 to 14 years old. Majority of the injuries were males (71 percent) and mostly with passive involvement. Most injuries occurred equally in the streets and inside homes (49 percent each), while one injury happened in a neighbor's house.
The top anatomical sites of injuries were the eye (33 percent), hand (24 percent), forearm/arm (16 percent), head (12 percent), and neck (10 percent). Majority of the injuries were blast injuries not requiring amputation (67 percent), while 2 percent were blast injuries requiring amputation.
Top fireworks causing injuries were Kwitis (29 percent), Boga (8 percent), 5-Star (8 percent), Fountain (8 percent), and Triangle (8 percent). Legal fireworks caused 55 percent of all injuries while illegal fireworks at 37 percent. Let us be reminded that fireworks, whether legal or illegal, are still dangerous not only to our safety but also to the environment.
The significant reduction in the total number of recorded cases may be attributed to the far-reaching effects of the COVID-19 pandemic affecting people's willingness and ability to celebrate through the use of fireworks. It may also be attributed to the strengthened initiatives of our local government units in banning firecrackers and the efforts of the national government agencies and stakeholders through the Iwas Paputok campaign.
"The lower numbers we achieved this year is a welcome development, but we will not stop until we achieve zero firework-related injuries and ensure that the next holidays will be safer for every Filipino," Health Secretary Francisco T. Duque said.
"We have also observed that there was a change of behavior of Filipinos towards health. Due to the pandemic, the Filipinos became more aware and involved in ensuring the health and safety of their family and community. This decrease is also the success of all the families who follow the government's prescribed protocols and instill good values in their children. We shall continue to create healthier and safer communities," he added.
The Health Secretary also reminded those who have incurred injuries due to fireworks to immediately consult their nearest health facility for proper wound care and management and to avoid fatal complications like tetanus.
"Our hospitals and health facilities, and their respective medical staff shall continue to provide medical care to fireworks-related injuries," Duque said.
Meanwhile, Pasig City has recorded only three firecracker-related injuries, with no stray bullet injury.
In his social media post, Pasig City Mayor Vico Sotto said over PHP200,000 worth of small firecrackers were confiscated in the city.
He noted that this is the lowest count the city ever recorded compared to the previous years.
"Kung gusto talaga natin na walang firecrackers nationwide o kahit Metro Manila, kailangan wala ring mabibili ang mga tao (If we want to totally ban firecrackers nationwide or even in Metro Manila, we need to ensure to cut-off the supplies)," he said.
The city government has earlier approved executive order prohibiting residents to use fireworks and other pyrotechnic devices to prevent firecracker-related injuries during the celebration of the New Year. (With reports from Lade Jean Kagabani/PR)