MANILA – A coronavirus vaccine might arrive in the Philippines in the next few months and those who are most vulnerable to Covid-19, including front-line workers and the elderly, could be among the first people to receive their doses.
Which Covid-19 vaccines would likely make their way to the Philippine market and what are the processes involved for them to be approved for public use?
Here's what you need to know:
Vaccines typically require years of research and testing but in 2020, scientists race to produce safe and effective coronavirus vaccines in record time.
To date, 232 candidate vaccines are being developed, 172 are being examined in the laboratories, and 60 are in the clinical trials, according to World Health Organization (WHO) Coordinator for Essential Medicines Health Technologies Dr. Socorro Escalante during a recent Laging Handa briefing.
Only 10 have reached Phase 3 clinical trials and were granted emergency use authorization around the world and only one was granted WHO emergency use listing (EUL). Pfizer has been granted both a EUA in several countries and WHO's EUL.
Among the 10, only Pfizer and AstraZeneca have so far applied for an emergency use authorization (EUA) -- an authorization issued for unregistered drugs and vaccines in a public health emergency -- in the Philippines and are currently being evaluated by the Food and Drug Administration (FDA).
"These vaccines differ from each other based on their platforms, cold chain requirements, and the number of doses required," Escalante said.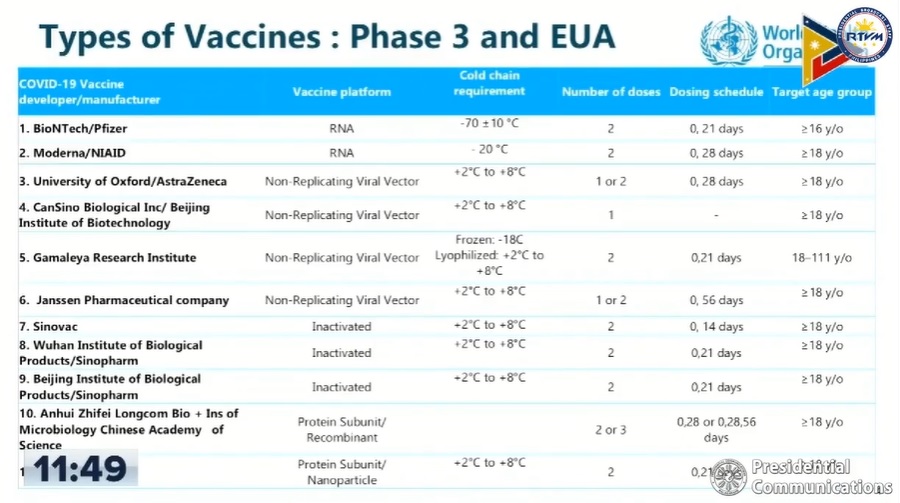 Department of Science and Technology Council for Health Research and Development Executive Director Dr. Jaime Montoya said each vaccine is developed differently from one another in terms of platform use such as age group and comorbidities of patients.
"As a result, each vaccine is expected to elicit different degrees of efficacy and safety. For example, one brand may work better for senior citizens while another will be best for children," Montoya said.
"Vaccine dosage will depend on the effectiveness of a vaccine in building antibodies or immunity. Some vaccines may require a booster or second dose to help increase antibodies," he added.
READ: 50-70M Pinoys targeted to be vaccinated in 2021
The country has received applications for vaccine clinical trials from three manufacturers -- Sinovac, Clover, and Janssen.
FDA Director-General Eric Domingo said only Janssen was given the approval to start with its clinical trials in the country, which is set to begin by next week.
As for Sinovac and Clover, the FDA is still waiting for them to submit additional documents needed for the review of their application.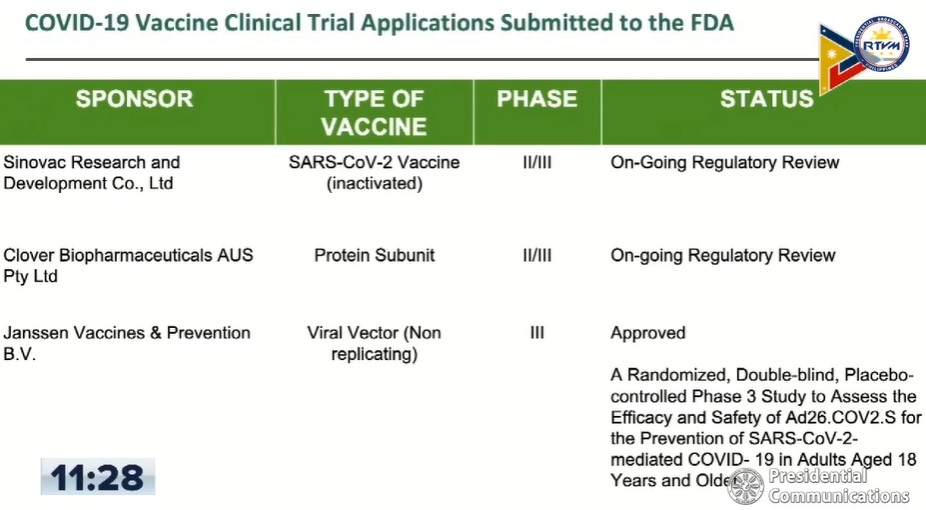 Three clinical trial phases are required for a vaccine candidate to be evaluated on its safety, efficacy, and quality.
"Phase 4 is for continuous monitoring of vaccine even after provided with a license for use; data obtained from trials must show that the benefits outweigh the potential risks for the recipients," Montoya said.
The efficacy of a vaccine is based on two factors: its capacity to prevent infection and capacity to prevent severe symptoms or disease to avoid deaths.
"(The) WHO says a vaccine with more than 50 percent is good, again, a vaccine may have an overall efficacy of 50 percent but may have a higher efficacy in other groups that is why some vaccines may be better for some groups e.g. older people, and some are better for the younger population," Montoya said.
READ: PH to secure 148M doses of Covid-19 vaccine in 2021
He added that the DOST created the vaccine experts panel to evaluate the scientific data on the safety and efficacy of a vaccine candidate and to ensure the highest scientific and ethical standards.
The recommendations and results from the clinical trials are further evaluated by the FDA.
"The FDA, as the regulatory body, gives the final approval and licensing of vaccines but will regularly monitor the vaccine program to ensure they follow the standards," Montoya said.
Aside from applications for clinical trial approval, the FDA also receives applications for EUA.
On Dec. 1, 2020, President Rodrigo Duterte signed Executive Order 121 allowing FDA to grant EUA to potential Covid-19 vaccines, which would be made available in the country.
On Dec. 14, 2020, the FDA released Circular 2020-036, which provides the guidelines on the process and a list of requirements for EUA application.
For a potential Covid-19 vaccine to apply for a EUA in the country, it must have reached Phase 3 clinical trials and it must have been granted a EUA in its country of origin.
EUA is given under the following circumstances: 1.) reasonable to believe that the vaccine may be effective to prevent, diagnose, or treat Covid-19; 2.) known and potential benefits of the vaccine outweigh the known & potential risks of the vaccine if any; 3.) no adequate, approved and available alternative to the vaccine or drug.
Domingo said it would be easier to evaluate the application of pharmaceutical firms that have been granted EUA by regulatory bodies in other countries.
While the application process for a EUA is easy, the FDA wanted to make sure every step or procedure is followed to ensure the safety, quality, and efficacy of the vaccines.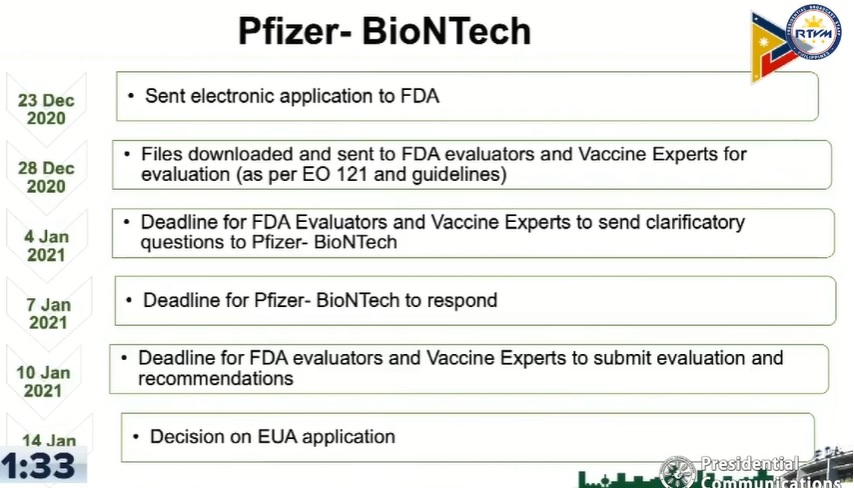 "We expect applications from other vaccine manufacturers... Sinovac already inquired about the requirements, we already sent it to them. The interest to apply is there, same with Sputnik V; Sinopharm has not applied for EUA; Moderna has not inquired; India has a home-grown vaccine – Barrack Biotech but has not applied," he added. (PNA)