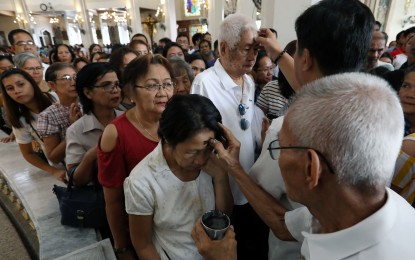 MANILA – Catholic prelates said Wednesday they would follow the procedure released by the Vatican on the distribution of ashes on Ash Wednesday this year.
"Actually (the) sprinkling of ashes on the head is the original way. This was already done last year," Manila Apostolic Administrator, Bishop Broderick Pabillo, said in an interview.
Pabillo said they are waiting for the directive of the Catholic Bishops' Conference of the Philippines (CBCP) regarding the celebration.
"Last year, priests (had) a choice. We are waiting for CBCP instructions still," he said.
Caloocan Bishop Pablo David said, "We actually did that already last Ash (Wednesday) 2020."
Cubao Bishop Honesto Ongtioco also said he would follow the procedure.
"We would just do the sprinkling, which goes back to ancient times," he said.
In a note published on January 12, the Vatican's Congregation for Divine Worship and the Discipline of the Sacraments directed priests to say the formula, "Repent, and believe in the Gospel," or "Remember that you are dust, and to dust you shall return," once to everyone present, rather than to each person.
The note said the priest "cleanses his hands, puts on a face mask, and distributes ashes to those who come to him or, if appropriate, he goes to those who are standing in their places."
He then takes the ash and sprinkles it on the head of each one without saying anything.
Ash Wednesday, which falls on February 17, marks the start of the Lenten season for Catholics. (PNA)