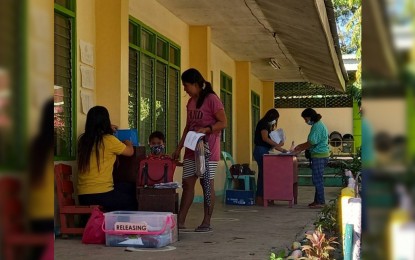 AGUILAR, Pangasinan – News on educators' commitment to their vocation amidst the pandemic continues to bring hope that learners' future remains bright.
Cancellation of face-to-face classes this school year is a big challenge for school officials, but the additional hurdle is the dearth of printed learning materials that students need before classes started.
Edna Ramirez, Principal II of Buer-Bayaoas Elementary School here, said the transition to the current system is even an "extra challenge" for her since she was assigned to the school last Nov. 18, a few weeks after classes opened on Oct. 5.
She said the modules initially given to them arrived late, at around late October and early November, and were not enough for their 632 students at three sections per grade level.
They thus needed to purchase bond papers, printers, and inks to reproduce the modules.
But purchasing these items was not easy because there were supply issues for printers in the province that time, Ramirez said.
"I was able to secure the funds from our MOOE (Miscellaneous and Other Operating Expenses) but we were not able to buy a printer because it was a big demand in the province back then," she told the Philippine News Agency (PNA) in Filipino.
To address the needs, Ramirez said they utilized the school's existing printer, which has not been used for a long time and a teacher offered her personal printer that required repair.
The teachers also utilized books that are with the school to assign exercise activities to their students.
"Kahit papano nakakaraos kami (In a way, we are surviving)," she said, adding the supply of modules has improved as the school year progresses.
Despite the challenges, Ramirez also cited parents' effort to help their kids cope with the current situation.
She said parents' contribution in their kids' studies are evident to the point a parent admitting to doing her kid's assignment.
"Minsan makaka-encounter ka (sa) grade 1 pupil. Nakakalimutan yata ni mother na hindi pa nagku-cursive (cursive) ang pupil," she added laughing.
Ramirez also cited another instance when some parents requested teachers to teach them the lesson in a classroom setting so they can effectively discuss it to their kids.
Also, there was a case wherein parents of a first grader are both working and cannot attend the weekly pick-up and submission of students' modules, which resulted in the student missing the lessons.
Ramirez said the class adviser, however, was able to intervene by checking the student at home.
These anecdotes are just some of the issues why educators aim for a shift back to face-to-face classes in areas where cases of coronavirus disease 2019 (Covid-19) cases are low.
"Okay naman yung face-to-face kasi may ways naman kung paano ma-prevent yung pagkalat ng virus. Kasi makikita mo, lalabas ka dyan yung mga bata naglalaro lang. At least pag face-to-face at limited (ang number per class), mas mapoprotektahan pa sila ng teacher dahil may social distancing. (Face-to-face is okay because there are ways to prevent the virus' spread. Once you go out, you can see the children are just playing. At least when there are face-to-face classes with a limited number of students, the teachers would be able to even protect the kids because there will be social distancing)," she added.
If the national government permits, Ramirez said students from Buer-Bayaoas Elementary School would benefit from the traditional class modality since at around 35 pupils per class students may have a two-day shifting schedule to also ensure physical distancing in the classroom.
"Mas maganda kasi matututukan sila ng teachers. Iba pa rin po sana (ang face-to-face classes) (Having face-to-face classes are still better because teachers would be able to focus on the students)," she said.
The government earlier set a dry-run of the limited face-to-face classes in areas where risks of Covid-19 cases are low starting January 2021, but President Rodrigo Duterte cancelled this following the discovery of the Covid-19 variant in the UK.
Ramirez further cited the need to prioritize the core subjects and the focus on arithmetic, reading, and writing.
In general, she said teachers and parents are coping with the situation but noted the possibility of deterioration of quality of education.
"Iba po talaga pag may personal interaction ang students and teachers (Having personal interaction between teachers and students is a big factor)," she added.
The Department of Education (DepEd) implemented the blended learning this school year 2020-2021 in a bid to lessen student's exposure to Covid-19 following the President's directives, pending the availability of a vaccine.
As a result, DepEd formulated modules, which are either printed or distributed through the virtual classroom depending on what the students prefer or what can be tapped or accessed in a certain area. (PNA)