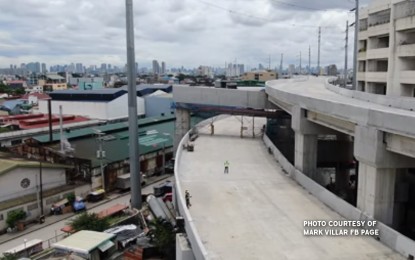 MANILA – San Miguel Corporation (SMC) president Ramon Ang said on Tuesday some 10,400 medical front-liners against the Covid-19 pandemic will be allowed to use the newly-opened Skyway 3 for free indefinitely.
It is the same way they have been allowed to use all SMC expressways toll-free since the pandemic hit the country in March last year, Ang added.
This means that even when the expressway starts collecting toll fees after the current free use period for the public set by Skyway 3, medical front-liners will still continue to benefit from the toll-free passage.
Ang reported that as of Jan. 18, 2021, or some 10 months since SMC started the program in March 2020, the company has waived a total of PHP156 million in toll fees for doctors, nurses, laboratory technicians, and other medical workers fighting the pandemic.
Since mid-June 2020, SMC has been the only toll operator still implementing a "no toll fees" policy for medical practitioners at its expressways --the Southern Tagalog Arterial Road (STAR), the South Luzon Expressway (SLEX), the Skyway system, NAIA Expressway (NAIAX), and the Tarlac-Pangasinan-La Union Expressway (TPLEX).
"This time of the pandemic, we need to help our country, our fellow Filipinos, and each other, as much as we can. We have been providing this courtesy to our medical practitioners non-stop because it's our way of honoring them and thanking them for their selfless efforts to save lives and to help us survive this crisis," Ang said.
Skyway Stage 3, Ang said, is also part of SMC's efforts to help the country. Seen to help boost the economy and improve productivity by enabling trade, tourism, and transportation, Skyway is a project that many thought could never be done.
Saddled with numerous contentious right-of-way issues that necessitated major changes to its design and alignment, which also resulted to higher costs and a longer timeline, it was finally soft-opened to the public last December 29—toll-free until February 1, Ang said.
SMC fully funded the project with no government subsidies or guarantees. It also paid in full for all right-of-way properties and built three new bridges in San Juan, Mandaluyong, and Manila. It did these in order to fast-track construction of the 18-kilometer elevated expressway traversing Metro Manila's densest, busiest cities.
Apart from providing the long-awaited seamless link between the South Luzon Expressway and the North Luzon Expressway, Skyway Stage 3 has also shown that it can significantly decongest traffic throughout Metro Manila, particularly Edsa.
In the first two weeks since it was soft-opened, Skyway 3 recorded an average of 71,000 vehicles per day. Fully operational, Skyway 3 can easily accommodate 200,000 vehicles or half of daily Edsa traffic, Ang said.
Edsa was previously the only link between north and south, and for decades, has been synonymous to traffic in Metro Manila.
"Completing and delivering Skyway 3 in this time of pandemic has both tangible benefits and symbolic significance for our people. For so many decades, we have all suffered through by now countless hours of traffic on Edsa and most of our major roads. With Skyway Stage 3, motorists now have the option to take a much faster route that will save them time and fuel. But the real beauty of it is this will also decongest Edsa and other roads, making travel there for many people also easier," Ang said.
"This project, the result of cooperation between government, private sector, and so many stakeholders, showcases the talents and know-how of our Filipino engineers and builders. It shows our ability to build our own world-class facilities and our optimism for the future," he added.
Completing Skyway Stage 3 had been a part of SMC's push to accelerate development and continue investing in the country, to help boost economic recovery and create more jobs. This, even as the company mounted one of the largest and most impactful private sector pandemic response efforts, rolling out an over PHP13 billion response package.
The "no toll fees" program for medical front-liners is among its continuing Covid-19 response initiatives. (PR)