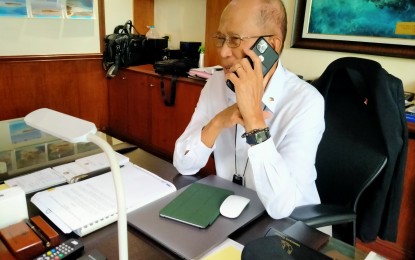 MANILA – The United States, through the Pentagon, has affirmed its commitment to its defense alliance with the Philippines, particularly the Mutual Defense Treaty and the Visiting Forces Agreement.
The commitment was made during a phone call between Defense Secretary Delfin Lorenzana and US Defense Secretary Lloyd Austin III on Feb. 9.
"Secretary Austin affirmed the US commitment to the US-Philippines alliance and our bilateral Mutual Defense Treaty and Visiting Forces Agreement (VFA), highlighting the value the VFA brings to both countries," a Pentagon readout said.
The two officials discussed the importance of enhancing the capabilities of the Armed Forces of the Philippines and increasing interoperability between the two militaries "through a variety of bilateral security cooperation activities."
They also discussed regional security challenges, including the South China Sea, counterterrorism, and maritime security.
The two affirmed the importance of upholding international rules and norms, including the 2016 Arbitral Tribunal ruling, that invalidated the sweeping claims of Beijing over the South China Sea.
"Both sides committed to sustain dialogues amidst the pandemic and strengthen cooperation between the two defense establishments. They agreed to meet face-to-face in the future," a statement from the Department of National Defense read.
A meeting between the Philippine and the US governments is scheduled within February 2021 to tackle the fate of the VFA, whose abrogation was recently suspended.
In an interview Monday over ANC, Foreign Affairs Secretary Teodoro Locsin, Jr. said, "I am narrowing down the issues and soon we will meet, I believe in the last week of February and iron out whatever differences we have and come to an agreement. What that agreement is, of course, I do not wish to anticipate because then that would weaken my decision." (PNA)