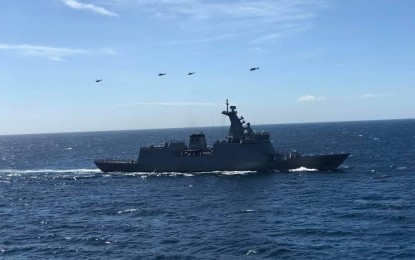 MANILA – The Philippine Navy's two newly-acquired guided missile frigates play a vital role in naval diplomacy and in promoting the country, apart from helping protect its vast waters, Navy chief Vice Admiral Giovanni Carlo Bacordo said Tuesday.
"They will also play a big role in naval diplomacy to promote our country and showcase our strength by not only participating in multi-lateral maritime training activities, but also conducting port visits in selected key areas of our allied navies," Bacordo said.
The BRP Jose Rizal (FF-150) and BRP Antonio Luna (FF-151) will be deployed only to specific missions as ordered by the Armed Forces of the Philippines' top leadership, he added.
"They will still conduct sovereignty patrols and show-the-flag missions covering the whole archipelago with focus on external defense. They will participate in naval exercises here and abroad in order to hone the skills of her crew in naval warfighting," he said.
The frigates are capable of surface, sub-surface, air, and electronic warfare using state-of-the-art electronic sensors, long-range missiles, acoustic guided torpedoes, and an embarked anti-submarine helicopter.
The prospective BRP Antonio Luna left Ulsan, South Korea last Feb. 5 and arrived off Capones Island, Zambales waters last Feb. 9.
The contract for the two ships was placed at PHP16 billion, with another PHP2 billion for weapon systems and munitions. (PNA)