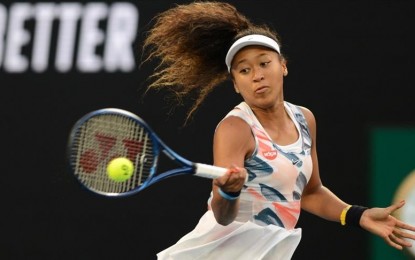 ANKARA – Japan's Naomi Osaka defeated American Jennifer Brady in straight sets to win her second Australian Open title on Saturday.
World No. 3 Osaka beat Brady 6-4, 6-3 at the Rod Laver Arena in Melbourne to claim the fourth Grand Slam title of her career.
The 23-year-old now has two Australian Open – 2019 and 2021 – and two US Open titles – 2018 and 2020 – to her name.
Brady, 25, who was playing her first Grand Slam final, was gracious in defeat, congratulating Osaka and terming her "an inspiration."
"[...] Another Grand Slam title, she's such an inspiration to us all and what she is doing for the game is amazing... I hope young girls at home are watching and inspired by what she's doing," she said.
Due to Covid-19 restrictions, a limited number of spectators were in attendance for the final, and the champion made it a point to make them feel special.
"Thank you for coming and watching. To have this energy really means a lot. Thank you so much. Thank you for opening your hearts and arms towards us," Osaka said. "I feel like playing a Grand Slam right now is a privilege and thank you for this opportunity."
The Japanese star will go home with the 2021 Australian Open trophy and 2.75 million Australian dollars (over USD2.1 million) in prize money, while Brady pocketed 1.5 million Australian dollars (over USD1.1 million) and got the first silver shield of her career. (Anadolu)