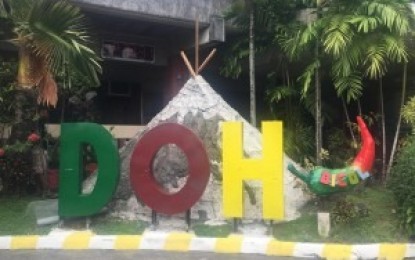 LEGAZPI CITY – The Department of Health Center for Health Development (DOH CHD) in Bicol is encouraging the public to avail of the agency's Philippine Package of Essential Non-Communicable Diseases Interventions (PhilPEN) program.
The undertaking is seen as an efficient means to screen and evaluate patients to reduce the number of non-communicable diseases (NCDs) such as cardiovascular ailments.
Windalyn G. Baluis, DOH-Bicol Mental Health and Lifestyle Related Diseases Program manager, said PhilPEN is conducted in partnership with local government units (LGUs) on a year-round basis.
Baluis said the PhilPEN is a tool to assess the risk factors of the patients through timely screening, to determine the level of risk to CVD.
"This is done through interviewing the person to have a clear medical history, getting their blood pressure and blood sugar level, and body mass index," she said.
DOH-Bicol, in a statement on Monday, said the agency is observing Philippine Heart Month 2021 this February themed, "Be Happy, Health Ka-Heartner! Kunsolt tayo sa ating mga Primary Care Providers!"
The agency is urging the public to practice healthy living in order to combat cardiovascular diseases (CVDs).
"The celebration underscores the importance of strengthening its advocacy for a healthy heart through a good physical health and consulting your health provider at the primary health facilities," Baluis said.
The four risk factors of CVDs are obesity, physical inactivity, substance use, and consumption of unhealthy foods.
"The high waist circumference is measured because here we can see if the patient exceeds the ideal waist circumference. In the Belly Gud for Health Advocacy, women should have a waist circumference of 30 inches, and men, until 35 inches. When one exceeds these, they are vulnerable and considered obese. Hence, you are prone to heart ailments like coronary heart disease. PhilPEN is also a process where we give input such as counseling, checkups and medicines, with the intervention of the public to stop substance use, engage in physical fitness, and eat nutritiously. These actions are for prevention and control of CVDs," the DOH CHD said.
To promote a healthy lifestyle physically and mentally, especially for cardiovascular wellness, the DOH CHD Bicol holds activities for its employees such as zumba dancing.
The Philippine Heart Month is held annually every February as stated under Proclamation No. 1096 signed on January 9, 1973. (PNA)