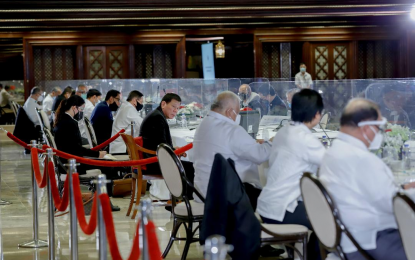 MANILA – An executive order (EO) is currently being drafted to institutionalize the 2021-2022 National Employment Recovery Strategy (NERS) to bring back jobs in the labor market and enhance the skills of the local workforce, a Palace official said Tuesday.
In a virtual presser, Cabinet Secretary Karlo Nograles said the NERS was discussed and approved during the 52nd Cabinet meeting presided over by President Rodrigo Duterte at the Malacañan Palace on Monday night.
"Another initiative that was discussed yesterday (Monday) was the 2021-2022 National Employment Recovery Strategy or NERS…An executive order (EO) is now being readied to institutionalize the NERS task force in order to oversee all of these efforts," he said.
Nograles said the NERS is meant to help create a policy environment that encourages the generation of more employment and entrepreneurship opportunities.
It is also expected to improve the employability and productivity of workers as it provides support to existing and emerging businesses.
"The strategic framework of the NERS is based on the following pillars -- stimulating the economy and employment; supporting enterprises, jobs, and income; protecting workers in the workplace, and trusting social dialogue to encourage innovative solutions," he said.
Earlier, the government created the NERS task force on the back of the job shedding across different industries due to the adverse impacts of the Covid-19 pandemic.
The NERS task force will be chaired by the Department of Trade and Industry and co-chaired by the Department of Labor and Employment and Technical Education and Skills Development Authority.
Among the policy considerations that the NERS task force has initially discussed are the emphasis on the need for a whole-of-government approach that will help create jobs and encourage more investments vis-à-vis key government policy and program interventions; the affordability of testing requirements to restart the tourism industry; and the push for policies to strengthen finances through measures which will help access to finance of pandemic-hit enterprises.
At the height of the community quarantine measures, the unemployment rate hit a record-high of 17.7 percent.
The unemployment rate eased to 10 percent in July 2020 and to 8.7 percent in October 2020.
However, this is far from the 5 percent unemployment rate before the pandemic. (PNA)