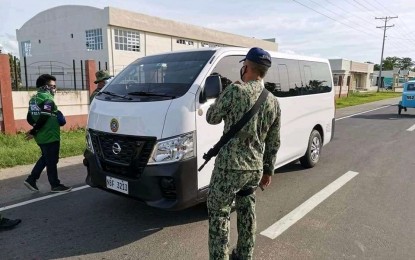 MANILA – President Rodrigo Duterte is taking a "step-by-step" approach to the planned nationwide shift to the least restrictive modified general community quarantine, Cabinet Secretary Karlo Nograles said on Tuesday.
This, after Duterte rejected the proposal to place the entire Philippines under MGCQ until the government starts the rollout of coronavirus disease 2019 (Covid-19) vaccines.
"For him (Duterte), it's a step-by-step approach. Itong step muna before we go to the next step (We have to take this step first before we go to the next step), Nograles said in an online press briefing.
Nograles said it was "difficult" for Duterte to turn down the proposed shift to MGCQ.
However, Duterte wants to make sure that people's health and safety would not be compromised, Nograles said.
"Again, the President and the government recognize the urgency of reopening the economy so we can resume the pre-pandemic upward trajectory and sustained growth of the economy. This, however, should be done side-by-side with measures that will ensure that we do not compromise efforts to contain Covid-19," he said.
'100%' backed
The initial plan of the Inter-Agency Task Force for the Management of Emerging Infectious Diseases (IATF-EID), is to recommend the imposition of the most relaxed MGCQ in the entire country.
Nograles said he and his fellow Cabinet officials "100 percent" support Duterte's latest decision.
"As far as support on the Cabinet is concerned, of course, we're 100 percent behind the President in his decision," he said. "We will support 100 percent the decision of the President and we will work within the framework that was given to us by the President."
Nograles said the IATF-EID would also assess what areas in the country should be placed under the stricter general community quarantine (GCQ) or MGCQ for the month of March.
He added that the task force would continue to have "more active" partnership with local officials, especially those who are in areas that will be put under GCQ next month.
'Month-to-month' assessment
The government was supposed to start its free vaccination program this month. However, there was a delay in the delivery of Covid-19 vaccines due to indemnification requirements.
Nograles said the IATF-EID would stick to the "month-to-month" assessment even if the government starts its mass immunization drive.
"If we go by the procedure, every end of the month, that is when we discuss ano 'yung magiging recommendations namin kay Pangulo (what our recommendations to the President would be) for that succeeding month. So siguro (perhaps), in terms of timeline, perhaps that might be the same procedure that we follow," he said.
Metro Manila, Cordillera Administrative Region, Batangas, Tacloban City, Iligan City, Davao del Norte, Davao City, and Lanao del Sur have been placed under GCQ in February.
The rest of the country has stayed under MGCQ this month. (PNA)