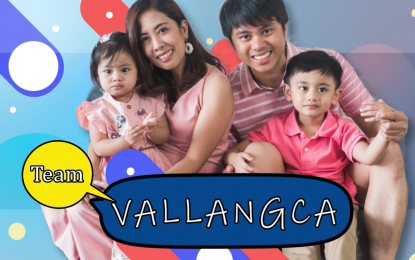 MANILA – While physical distancing is being practiced amidst the pandemic, the online space enables people to stay connected. The "new norm" in events, concerts, churches, even the way people shop and pay their bills, is now often done online.
For a family in Cavite, it served as an avenue not just to reach a wider audience, but also to discover themselves more.
Berlene Vallangca created a YouTube channel in 2018 as a private repository of videos. Last year, she decided to make it accessible to the public.
"I really want to document our activities and travels. Then the pandemic happened. I have more time with my kids, and my friends encouraged me to share our experiences with other parents. This became my outlet to express creativity," Vallanga told the Philippine News Agency in an interview.
Activities such as baking, planting, DIY (do it yourself) dollhouse, travels, reviews, and recommendations are the usual contents of Team Vallangca's YouTube channel.
Her husband, Gem, works overseas and is very supportive. He provides inputs on how to edit the videos and what tool can Berlene use. They set limitations as to what information they can share on the channel.
"I was able to share my experiences as a mother of two, and this is also a great bonding experience with my kids. (Also), I get to learn new skills such as video editing and content creation. I am happy because some people appreciate our videos, and connect with us through comments," she said.
As for her kids, five-year-old Elric and three-year-old Lauren, having a YouTube channel helped them express themselves and be comfortable in front of a camera. Vallangca shared that some of her kids' school activities are similar to vlogging. Thus, their YouTube channel allows them to practice for this.
On being a YouTuber
For Vallangca, it is not expensive to become a YouTuber. One only needs a camera, which could be included in a cellphone; an editing app, which is also normally installed on a mobile device or desktop; and good lighting.
She suggests the use of natural light as this looks better in the camera, and would not require the use of a ring light.
"You can be a YouTuber without spending too much," she noted.
A reliable internet connection is also a must.
Vallangca said one must choose a provider that has a good connection in his or her area. She usually uploads videos late at night, hoping to get faster internet speeds since other people are not using the internet by that time.
"I also consider what is affordable, bundles that I could maximize," she said.
Globe At Home, for instance, offers an internet connection tailored fit for those on a budget. One may avail of various packages, even for a very minimal amount for a 30 GB of data. Currently, the firm is expediting the upgrade of its existing sites with 4G LTE and 5G technology.
Vallangca, meanwhile, said people should not compare their YouTube channels with the others'. "If you love what you are doing, there is no need to look at the number of your subscribers and engagements (likes and comments)."
"Just keep on sharing your passion, and eventually, your followers will come in," she added.
Even if Vallangca does not consider herself as a pro, she pointed out that those who plan to create a YouTube channel must first identify their target audience.
"From there, you can identify your contents. Don't overshare information for your security," Vallangca shared.
One must take time to learn different editing tools, and learn from other YouTubers for some shooting techniques.
"Don't get discouraged if you feel no one is supporting you. It really happens at the beginning. Connect with your audience. Enjoy the journey," Vallangca said. (PNA)