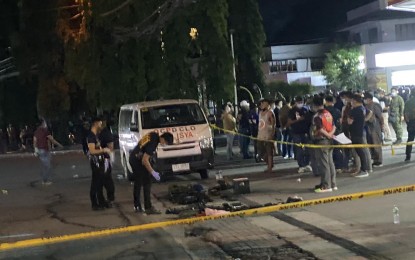 MANILA – Justice Secretary Menardo I. Guevarra on Wednesday has ordered the National Bureau of Investigation to conduct a parallel investigation on the alleged "misencounter" between Philippine National Police (PNP) anti-illegal drug operatives and Philippine Drug Enforcement Agency (PDEA) agents on Commonwealth Avenue, Quezon City late Wednesday afternoon.
"This is separate and distinct from the probe to be conducted by an ad hoc joint PNP-PDEA Board of Inquiry earlier announced by PNP chief Debold Sinas," Guevarra said in a text message to reporters.
Guevarra was referring to Gen. Sinas earlier statement that he tasked the Criminal Investigation and Detection Group (CIDG) to probe the shooting incident between PNP and PDEA agents outside the Ever Gotesco Mall.
PNP spokesperson Brig. Gen. Ildebrandi Usana, in a statement, said Sinas designated the CIDG as the lead investigating body while National Capital Region Police Office (NCRPO) Director, Maj. Gen. Vicente Danao Jr. has been designated to speak on any updates from the PNP to keep the public informed of accurate and relevant information.
As quoted by the media, Danao said both operations were legitimate, thus, an ongoing investigation why an encounter happened between the PNP and PDEA.
"Mayroon naman silang pre-ops in coordination with PDEA. So 'yung QCPD ang lakad nila is authorized naman. Kung paano nangyari, 'yun pa ang iimbestigahan natin,(They had pre-ops coordination with PDEA. The QCPD operation was authorized. We are still investigating what happened.) This is a legitimate anti-drugs operation. So kung sino 'yung nagbuy-bust, kung sino 'yung ka-buy bust, 'yun po 'yung iimbestigahan natin. (This is a legitimate anti-drugs operations. So we are investigating who was buying, and who they were transacting with)," he said.
Usana said the PNP and PDEA both agreed and assured the public that the incident, "while serious, will in no way affect the continuing operational relationship and coordination they have long firmed up in the fight against illegal drugs."
"In the interest of determining the truth behind the incident, a joint PNP-PDEA Board of Inquiry will be formed to determine what transpired and who should be held liable," Usana said.
Meanwhile, PDEA spokesperson, Director Derrick Carreon, said they have no exact details yet about the incident but said the agency's Special Enforcement Service (SES) was conducting a legitimate anti-drug operation in the area.
"Sa ngayon, isa lang po ang malinaw… na ang PDEA Special Enforcement Service ay nandoon on a legitimate operation po (As of now, what is clear.. the PDEA Special Enforcement Services was in the area on a legitimation operation)," Carreon said in a message to reporters.
Based on sketchy reports from Batasan Police Station 6, the Quezon City Police District (QCPD) special operations unit personnel were conducting a drug buy-bust operation when they found out that they were transacting with PDEA agents, resulting in a shoutout at a fast-food chain parking area beside the Ever Gotesco mall at around 5:45 p.m.
Police recovered assorted high-powered firearms with several badges and identification cards.
Danao said at least two policemen were killed in the incident while at least three from the PDEA group were brought to the hospital.
Meanwhile, Carreon said PDEA opts not to comment on the incident for now.
"We will leave it to the Joint Board of Inquiry (PNP-PDEA Board of Inquiry). We will see the documents tomorrow. For now, priority po namin inaasikaso ang mga sugatan naming tauhan (our priority is to attend to our wounded personnel). (PNA)