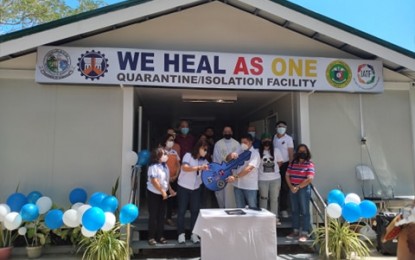 ILOILO CITY – The Department of Public Works and Highways (DPWH) on Thursday turned over newly-built quarantine facilities for coronavirus disease 2019 (Covid-19) to two municipalities in Guimaras.
Mayor Eugenio Reyes of the municipality of Buenavista, one of the recipient towns, said with the turnover of the 20-room facility constructed in Barangay McLain, " it would be easier for our constituents should they get infected by the coronavirus."
"Sixteen rooms are for our asymptomatic clients once it becomes operational in the next few days," he added.
The remaining four rooms will be for utility, male and female personnel who will be in charge of the facility, and one will serve as their rest area.
Each room is fully air-conditioned with a comfort room and beddings.
Before the turnover of the facility, the local government has a primary quarantine facility beside their evacuation center. It has also rented an island resort in Barangay Rizal.
"In the meantime, we will just cater to our constituents," Reyes said.
To date, Buenavista has seven active cases: three returning overseas Filipinos (ROFs) and four local cases.

Apart from Buenavista, the other recipient is the municipality of Jordan.
The facility is at the capitol grounds in Barangay San Miguel and has quarters for male and female doctors and a nurse's station.
Guimaras Governor Samuel Gumarin, in his message during the turnover, thanked the DPWH for the additional isolation facilities. (PNA)