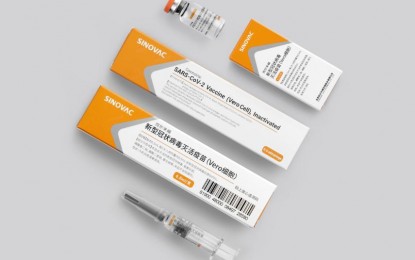 MANILA – The Philippine National Police (PNP) said all systems are in place to secure the speedy transport of the first batch of coronavirus disease 2019 (Covid-19) vaccines from China's Sinovac Biotech that will arrive in the country on Feb. 28.
"PNP units are fully prepared to perform their assigned duties under the task organization of PNP Vaccination Plan 'Caduceus' which is the strategic plan that will operationalize all security and public safety operations for the vaccine roll-out in the coming weeks and months, following the arrival of the vaccine shipments from abroad," said chief, Gen. Debold Sinas, in a statement on Saturday night.
He said the PNP Vaccination Plan 'Caduceus' sets forth the security and public safety guidelines and procedures to be undertaken by the police in support to the Philippine National Covid-19 Deployment and Vaccination Plan, as a member of the Task Group Vaccine Cold Chain and Logistics Management, Task Group Immunization Program, and Task Group Demand Generation and Communication.
"We have gone through a series of planning workshops and simulation exercises to ensure organized and orderly transport of the vaccine shipment to the storage facilities and distribution hubs on D-day when the vaccine rollout shall commence," he said.
The PNP, he said, will be guided by the instructions of health authorities to administer the vaccine to police personnel who have been identified among the priority recipients such as those assigned to frontline medical and health care duties, as well as those who will be fielded to assist Department of Health personnel in administering the vaccine and other police front-liners.
"We are confident that our nation will pull through, bounce back and heal as one. God bless the Philippines," he added.
On Sunday, President Rodrigo Duterte will lead the turnover ceremony for the arrival of 600,000 doses of Sinovac vaccines donated by the Chinese government.
Earlier on Saturday, Presidential Spokesperson Harry Roque announced that 525,600 AstraZeneca vaccine doses from the COVAX Facility will arrive in the country on March 1. (PNA)