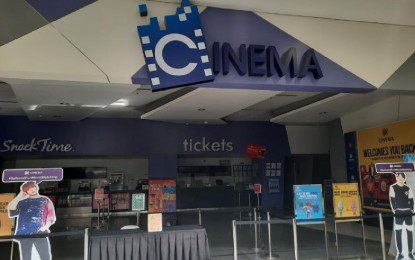 MANILA – The Department of Trade and Industry (DTI) has issued Memorandum Circular (MC) No. 21-08 allowing movie houses in areas under general community quarantine (GCQ) to reopen starting March 5.
The circular stipulates that cinemas in GCQ areas are only allowed to operate up to 25-percent capacity.
However, moviegoers are prohibited to eat and drink, while face masks shall be worn at all times inside the cinema.
A one-meter physical distance on all sides is also required.
"In the event of free seating, cinema staff shall usher customers to their seats to comply with the physical distancing and maximum operational capacity requirements," the MC said.
On the other hand, cinemas in modified general community quarantine (MGCQ) areas are allowed to operate at 50-percent capacity.
The MC also allows the operation of libraries, archives, museums, and cultural centers at 50 percent in GCQ areas, and 75 percent in MGCQ areas.
The same operation capacity will also be implemented for video and interactive game arcades, limited tourist attractions such as parks, theme parks, natural sites, and historical landmarks.
The meetings, incentives, conferences, and exhibitions (MICE) industry is also allowed to reopen starting this Friday at 50-percent capacity in GCQ areas and 75 percent in MGCQ areas, except for limited social events which are allowed at the lower capacity of 30 percent in GCQ areas and 50 percent in MGCQ areas.
"Following the earlier agreement at the IATF (Inter Agency Task Force for the Management of Emerging Infectious Diseases), DTI issued the circular that will guide the implementation of a safe and gradual reopening of more businesses and economic activities. This is part of our mandate to ensure that as more businesses reopen to provide more jobs and sources of income for our countrymen, the strict health protocols are enforced," DTI Secretary Ramon Lopez said.
Lopez said while the government continues to reopen more economic and business activities, minimum health measures should be strictly implemented.
"The past year proved to be very challenging as we were faced with unprecedented situations that demanded extraordinary responses, but it was also a time for growth and collaboration. Through the continued partnership of government agencies and with the strict adherence of our countrymen to health and safety protocols, we will continue to see signs of recovery," he added. (PNA)