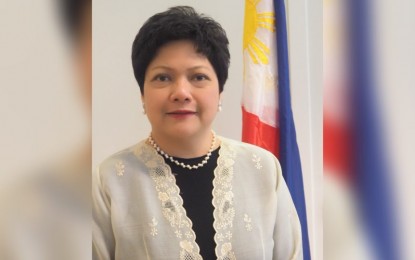 MANILA – Former Philippine Ambassador to Brazil Marichu Mauro, who was caught on video maltreating her household helper, has been dismissed from service, President Rodrigo Duterte said Monday.
Mauro was recalled in October last year to explain the physical abuse against her service staff. She was charged on Nov. 9.
"Yung (The) ambassador doon sa (to) Brazil who maltreated a household helper…the recommendation was…I signed the document affirming the decision. The decision metes out the penalty of dismissal from the service," he said in a pre-recorded public address.
Duterte said the dismissal order comes with accessory penalties such as cancellation of eligibility, the forfeiture of her retirement benefits and perpetual disqualification from ever holding public office.
Mauro will also be barred from taking civil service examinations.
"Yan ang parusa niyo (That's your punishment). That's how it is. I said there are rules to be followed. Kung ayaw mo sundin (If you don't want to follow them), you take the risk. If something goes wrong, it's gonna hit you," he said.
Brazilian news outlet Globo News earlier released CCTV footage supposedly showing Mauro physically abusing her 51-year-old worker on different occasions inside the diplomatic residence.
In separate incidents, she was seen throwing a piece of cloth at the household worker's face and pulling her ears to the point that the Filipina was crying.
Before charges were pressed against Mauro, the Department of Foreign Affairs (DFA) formed a fact-finding team to recommend penalties against her.
The service staff, who left Brazil in October, was provided with assistance by concerned government agencies.
'Probe's outcome pains me'
Mauro, meanwhile, lamented the probe's outcome that led to her dismissal, which she said she only came to know through media reports.
"It, therefore, pains me that, despite the explanation and contextualization of what actually transpired, the penalty of dismissal was still recommended and imposed. Secretary Locsin's tweet characterized me as a 'fine diplomat,' and that a 'harsh decision' was nonetheless imposed. But as a 'fine' diplomat, shouldn't I be spared from a harsh decision? It also begs the question: is it a fair and equitable decision?" her March 3 statement read.
Mauro said she already made amends and has "deeply regretted" her behavior, adding she has also asked for her helper's forgiveness.
She blamed the DFA Hearing Panel for "totally" disregarding the documentary evidence her side submitted.
"The case was railroaded to the point that important pieces of evidence were deliberately not given due attention," Mauro said.
She noted that she and her helper are family and that the latter has been employed in her household for more than 30 years.
"We grew up together. What the public doesn't realize is that there were heavy family dynamics involved. It is this familiarity that has caused me to cross boundaries I would never cross. It is this same familiarity that my kasambahay has also crossed on many occasions," Mauro said.
She said the "illegally obtained" video clips were patched together and eventually released to the Brazilian media to "shame and embarrass" her, adding the clips were "taken out of context."
"Personnel of the Philippine Embassy in Brazil attested in their sworn affidavits that this serious breach of security through illegal wiretapping was committed by the Brazilian local hires, one of whom was fired with DFA's authority. From the start, there have been many misleading facts," Mauro said.
She also clarified that she was not recalled by Locsin prematurely as she was due for recall in April 2020.
Mauro arrived in Manila in November 2020.
"From the first instance, there was always a sense that the DFA had an urgent need to process my case with great expediency and only expediency. There was absolutely no interest in giving me the benefit of the doubt and considering possible mitigating and even aggravating circumstances that have contributed to my behavior," she said. (With report from Joyce Ann Rocamora/PNA)