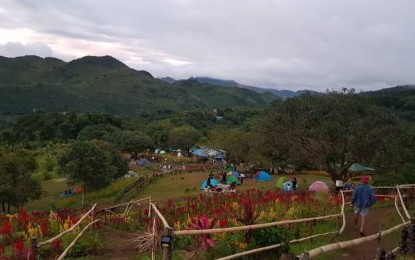 MANILA – Family vacations are likely to top Filipino priorities in terms of travel this year, outranking business trips and shopping as the previous main motivation for travel, a study showed.
According to Airbnb's Philippines Travel Trends Survey 2021 with data analytics firm YouGov, at least six out of 10 Filipino chose family vacations as the primary reason to travel this year.
Enjoying free time to unwind and relax, and visiting close relatives and friends are also key motivators to get Filipinos back on the road.
The Airbnb-commissioned survey gathered responses from 1,067 Filipinos between February 4 and 8.
It showed that travel with immediate and extended family is one reason for domestic travel among Filipinos, with 88 percent of the respondents saying they felt more connected with their families during the pandemic.
Notably, health and safety protocols (64 percent) and affordability (61 percent) are top considerations when choosing travel accommodation.
More than half of all respondents (53 percent) also prefer traveling to less crowded, off-the-beaten-path destinations, away from mass tourist hotspots.
Road trips are expected to gain traction as the top choice for Filipinos' first trip post-pandemic, as respondents indicated that they wanted to travel close to nature and places outside their communities well within driving distance.
Beachside destinations topped Filipinos' bucket lists in 2021, with Boracay emerging as respondents' top go-to destination, followed closely by Palawan, Baguio, Siargao, and Tagaytay.
"People are more likely to start traveling near to their places and so local and domestic tourism is going to be something that takes center stage before borders open up and cross-border travel resumes," said Amanpreet Bajaj, Airbnb's general manager for Southeast Asia, India, Hong Kong, and Taiwan.
"Travellers are also looking at slower, more mindful travel amidst nature. We believe that travel is resilient and will bounce back with time, and we anticipate that unique and family-friendly travel will serve as the impetus for domestic tourism recovery."
Airbnb said it would support government efforts to revive local tourism as it pledged to drive sustainable long-term growth for its "Stays and Experiences" to help local Airbnb hosts and guests community.
Citing research from Oxford Economics, it said it contributed to about USD1 billion in economic impact and supported more than 160,000 jobs in the Philippines in 2019 alone.
Airbnb said it intends to work closely with key policymakers and industry stakeholders on a sustainable way forward for its listings to be accredited, in line with the government's regulations for leisure travel. (PNA)