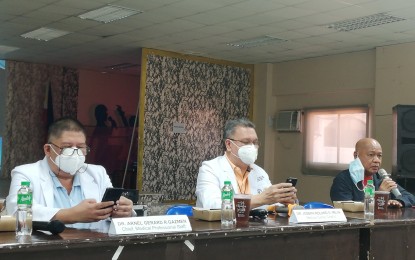 DAGUPAN CITY– A total of 1,000 out of over 2,000 medical front-liners of the Region 1 Medical Center (R1MC) here will receive the first dose of the Sinovac vaccine on Friday.
In a forum on Thursday, R1MC chief Dr. Roland Joseph Mejia said the 2,000 doses of the Sinovac vaccine were from the 600,000 doses donated by the Chinese government to the country.
"It will be given to the first batch of front-liners in the hospital. The recipients of the vaccine are nurses and medical staff 59 years old and below, and have no underlying conditions," he said.
Mejia said they were screened first before they were listed as recipients.
The inoculation of the first batch will take one week to finish as the health protocols, such as physical distancing, are to be implemented. The second dose will be given after three weeks, he said.
Mejia said they are continuing with the advocacy campaign on coronavirus disease 2019 (Covid-19) vaccination as a small proportion of the staff are still hesitant to be inoculated.
"They need to understand that the vaccine is important. If they will not be vaccinated, they will be part of the vulnerable population that were not vaccinated," he added.
Mejia said the Sinovac is as effective as the other vaccines.
"It will not be approved by the World Health Organization if it is not effective. Some other countries have already used it," he said.
Some 14,400 doses of the Sinovac vaccine arrived on Thursday that would be distributed to eight referral hospitals in the Ilocos Region, including R1MC.
Meanwhile, Mejia said R1MC is all set for the vaccination rollout, including its cold storage facility that could accommodate 40,000 vials of vaccine.
A simulation on the vaccination was already conducted on Wednesday. Included in the simulation activity was the handling of possible side effects of the vaccine.
"We have been preparing for this a few months ago so we are ready," Mejia said. (PNA)