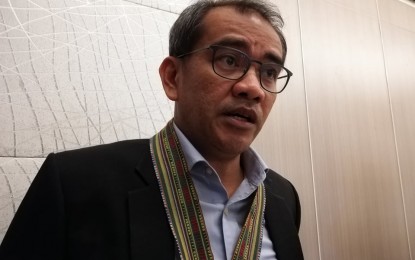 MANILA – An official of the Department of Science and Technology (DOST) said Friday he hopes the country's transportation sector would adopt the "DRIVER PH" project that the agency is supporting.
The Drivers Roadworthiness Improvement Verification Education and Readiness for the Philippine Logistics Industry (DRIVER PH) project will create a system that would track a driver's behavior.
"The concept is like a driver simulator, like in a game. But instead of a console, sensors would be placed on actual vehicles or trucks. Then data would be analyzed if the driver did something or he behaved right," Philippine Council for Industry, Energy and Emerging Technology Research and Development (DOST-PCIEERD) Director Enrico Paringit told the Philippine News Agency (PNA) on Friday night.
Paringit said the website still needs to be put up as the project has just begun.
He said the DOST provided DRIVER PH with a grant of nearly PHP5 million under the agency's Collaborative Research and Development to Leverage Philippine Economy (CRADLE) program.
The project, Paringit said, is not just an app but a hardware-software system to monitor a driver's behavior.
"It can be used not only to report erring drivers but also to train prospective drivers," he added.
The plan is to equip a truck with sensors and a camera to capture data.
"(The) TIP (Technological Institute of the Philippines) and Quicktrans (Quicktrans Cargo Moving, Inc.) will do it," he said.
Upon completion of the project, Paringit said it is possible to have the technology adopted by other operators.
"It is a possibility and a welcome development. We would like to see this technology to be proliferated (in the transport sector). Maybe this can also be proliferated among drivers of public transport," he said.
In his taped report aired Friday afternoon, DOST Secretary Fortunato de la Peña said the project would provide truck drivers the opportunity to improve their skills as they ply the roads.
"Researchers aim to integrate various ICT (information and communications technology) concepts, such as gamification, IoT (internet of things), artificial intelligence (AI), and data analytics to provide a comprehensive, end-to-end solution to produce roadworthy truck drivers to minimize accidents," he said.
The first part of the system that is being developed is composed of online learning and educational modules, mobile learning applications, and gamified applications that will educate the drivers and evaluate their preparedness to drive a truck on the road, de la Peña said.
Data, such as location, speed, and acceleration, will be sent to the cloud server and processed by an AI-powered system.
"This will also detect and assess any traffic violations from the drivers' actions. All the information will be analyzed to uncover patterns and come up with a scientific evaluation of the drivers' competence on the road," he added. (PNA)