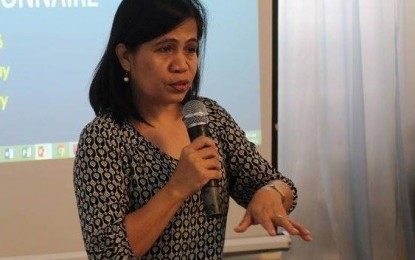 PALO, Leyte – The Commission on Population and Development (PopCom) regional office here is stepping up its information drive to combat the rising cases of teenage pregnancy in the region, an official said on Monday.
The population commission earlier sounded the alarm over reports showing that 7,000 teenage mothers in Eastern Visayas gave birth in 2019.
The official said figures can possibly go up in 2020 due to movement restrictions to curb the spread of coronavirus disease (Covid-19).
"Even with community quarantines already easing up, Covid-19 pandemic has already affected normalcy, forcing couples -- including minor parents -- to spend more time inside homes. This could cause the number to escalate more," PopCom Eastern Visayas Regional Director Elnora Pulma said.
In 2019, at least eight young mothers in Eastern Visayas already gave birth at the age of 13, while those aging 19 years old in the same year provided the highest number of teenage pregnancies at 3,009 cases.
"They are getting younger and younger. There even was a case in previous years where we had 11-year olds who were already pregnant. It's a very sad and scary situation for our adolescents to be in," Pulma said.
The main reasons for the high rate of teenage pregnancies are inadequate sex education as some girls do not know that having sex can result in pregnancy or fully consider the responsibility of having children, and a lack of access to birth control, Pulma said.
Pulma said information is still key to curbing the rising number of teenage pregnancies in the country. As such, PopCom continues to bring its information and adolescent-referral service to schools and other platforms possible under the new normal.
"We can help lower the escalating numbers on teenage pregnancy by combating it with the right information on all fronts available. By raising their awareness of teenage pregnancy, we can help them become responsible and productive women. Being informed and educated provides them with the right choices for their future," she added.
PopCom has been reaching out to more teens through social and mainstream media, working with local authorities and non-government organizations, and face-to-face gatherings.
It has been tackling and discussing the teenage pregnancy problem even before the pandemic and supported the call declaring it as a "national social emergency" in 2020.
The Young Adult Fertility and Sexuality Study (YAFSS) showed an increase in teenage fertility from 6.3 percent in 2002 to 13.6 percent in 2013. While a more recent 2017 National Demographic and Health Survey study revealed that the issue of adolescent fertility is important for both health and social reasons as children born to very young mothers are at increased risk of sickness and death.
The study showed that teenage mothers are more likely to experience adverse pregnancy outcomes and to be constrained in their ability to pursue educational opportunities than young women who delay childbearing.
Over a 10-year period, 1.2 million Filipina girls between the ages of 10 and 19 have had a child or a rate of 24 babies per hour.
Meanwhile, the Philippine Statistics Authority-gathered data showed a total of 178,505 cases in the region of 15-19-year-olds who gave birth in 2019. More than 15 percent of this total number of 15-19-year-olds were repeated pregnancies. (PNA)