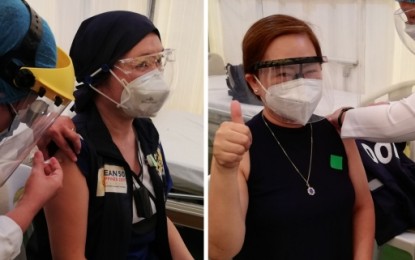 BACOLOD CITY – The top official of the Corazon Locsin Montelibano Memorial Regional Hospital (CLMMRH) in this city said he sees better days ahead with the rollout of the coronavirus disease 2019 (Covid-19) vaccine for the hospital front-liners.
"We continue to hope. Today is the start as we immunize about half of the workforce. They would be partially protected and we can serve better. We hope for better days to come. We hope with what we're doing right now, things will be much different," Dr. Julius Drilon, medical center chief of CLMMRH, said.
The CLMMRH was among the two Covid-19 referral hospitals here that kicked off the local vaccination program with the inoculation of an initial 16 medical and administrative front-liners in separate ceremonies on Monday.
Both the CLMMRH and the Dr. Pablo O. Torre Memorial Hospital (DPOTMH), popularly known as the Riverside Medical Center, were the recipients of some 6,270 doses of CoronaVac developed by Sinovac Biotech, which arrived in the city last Friday.
At the CLMMRH, nine volunteers, including six doctors, a nurse, and two administrative staff, were the first to be vaccinated with the initial dose.
These included Dr. Franklin Delano Tumaneng, operations chief of the Hospital Emergency Incident Command System (HEICS); Dr. Joan Cerrada, planning chief of HCEIS; Dr. Hary Carial, chair of the Department of Internal Medicine; Dr. Eirene Ayalin, chair of the Department of Family and Community Medicine; Dr. Carina Frayco, infectious disease specialist; Dr. Rhea Tabujara, pulmonologist; Marybeth Marcial, chief nurse; Antonio Manuel Monfort, chief administrative officer; and John Michael Gabriel Zaragoza, HEICS public information officer.
Drilon thanked the Department of Health and the national government for giving CLMMRH the priority in the initial phase of the vaccine rollout.
"This vaccine is better than no vaccine at all," Drilon said, adding that some 132 hospital staff tested positive for Covid-19 since August last year, but there are no more active cases at this time.
Drilon said that in the next four to five days, the CLMMRH, which has a total workforce of 1,743 aims to vaccinate about 150 personnel a day, which would mean utilizing an estimated 800 doses for the initial jabs, which will be followed by the second shots after 28 days.
Those who prefer other brands will be included in the next phase of vaccine rollout, he said.
At the DPOTMH, seven vaccinees participated in the ceremonial vaccination held at the FHM Hall.
Those who took the initial shots were Dr. Jose Pepito Malapitan, acting assistant medical director; Dr. Evram Corral, chair of the Department of Internal Medicine; Dr. Therese Angela Cocjin, infectious diseases consultant; Dr. Jeanette Umali, head of Antimicrobial Stewardship Committee; Ma. Liza Perrren, nursing director; Engr. Noel Garbo, corporate strategic support division officer; and Nancy Hizon, corporate human resources officer. (PNA)