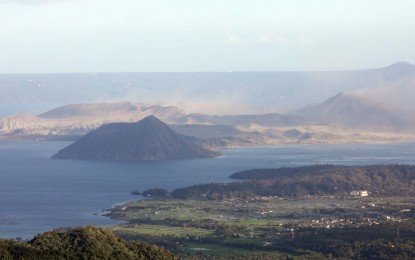 MANILA – The Philippine Institute of Volcanology and Seismology (Phivolcs) on Tuesday raised the alert level status of Taal Volcano from level 1 (low level of unrest) to level 2 (increasing unrest).
In a webinar, Phivolcs director Renato Solidum, Jr. said alert level 2 means eruption may or may not happen.
Under this status, evacuation is not recommended but the public is advised against going to the Taal Volcano Island (TVI), a permanent danger zone. The vicinities of the main crater and Daang Kastila fissure must also remain strictly prohibited.
In its latest volcano bulletin, Phivolcs said there were 28 volcanic tremor episodes, four low-frequency volcanic earthquakes, and one hybrid earthquake at shallow depths of less than 1.5 km. beneath the TVI in the past 24 hours.
Volcanic tremors had three to 17 minutes in duration.
"Overall, seismic activity in the past month indicates increased magmatic and hydrothermal activity at shallow depths beneath TVI," the Phivolcs said.
Increasing acidity was also observed, caused by sustained volcanic gas input into the shallow hydrothermal system that feeds into the lake, signifying degassing of magma intruded at depth during the January 2020 eruption.
Phivolcs has urged local governments to continuously assess previously evacuated barangays around Taal Lake for damages and road access and to strengthen preparedness, contingency, and communication measures in case of renewed unrest.
Residents of these barangays are advised to be always prepared, to keep calm, and listen to information only from trusted or verified sources, Phivolcs said. (PNA)