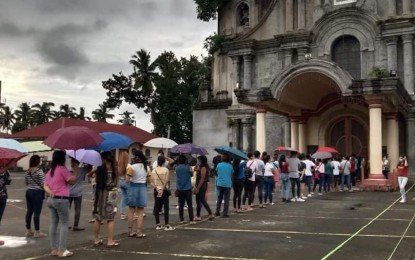 MANILA – Two more members of the clergy have tested positive for the coronavirus disease 2019 (Covid-19).
Lipa Archbishop Gilbert Garcera and Caritas Manila executive director Fr. Anton Pascual are both undergoing treatment.
"As you have already known, some priests and I tested positive for Covid-19 after undergoing the Real-Time Reverse Transcription Polymerase Chain Reaction or RT-PCR test," the Lipa archbishop said in a circular dated March 20.
"At present, we are in a health-managed condition. While necessary medical treatment continues, I must admit that the battle against Covid-19 is far from over," he added.
Garcera also expressed gratitude to those who sent greetings and offered prayers for their immediate recovery.
"I thank all priests, religious and lay faithful for your well wishes and prayers. Once again, I am requesting all priests to offer your Masses, Holy Hours and recitation of the Rosary for our immediate recovery and end to this pandemic," he said
On the other hand, the head of the social action arm of the Archdiocese of Manila is recuperating at the Cardinal Santos Medical Center in San Juan City, Church-run Radio Veritas said on Sunday.
"As we pray for an end to this Covid-19 pandemic, let us entrust ourselves to the maternal intercession of Our Lady of Caysasay and consecrate ourselves to the spiritual fatherhood of St. Joseph, the foster father of our Lord," the archbishop added.
Aside from Pascual, some personnel of Caritas Manila also contracted the virus and are under quarantine.
Every 6 p.m., Caritas Manila staff headed by Rev. Fr. Gilbert Katigbak pray the rosary for the immediate recovery of Pascual and all of those positive for Covid-19.
The main office of Caritas Manila in Pandacan, Manila is under lockdown from March 20 until March 28 to undergo disinfection.
On Sunday morning, a parish priest of San Agustin Church in Intramuros, Manila succumbed to Covid-19.
The Catholic Bishops' Conference of the Philippines website reported that Fr. Arnold Sta. Maria Cañoza died at the age of 45. The church has been locked down. (PNA)