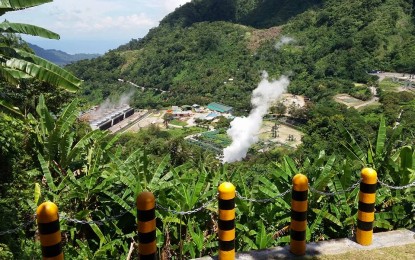 DUMAGUETE CITY – Thirteen electric cooperatives in Negros Island and other Visayas provinces will receive millions of pesos in benefits from the Energy Development Corporation (EDC) under the Energy Regulations 1-94 program of the Department of Energy (DOE).
The program is to recompense host communities of energy resources and/or energy generating facilities, said Norreen Bautista, head of EDC's Corporate Social Responsibility team in Negros in an interview Tuesday afternoon.
Bautista identified the distribution utilities as Negros Oriental Electric Cooperative (NORECO I) and II, Cebu Electric Cooperative I (CEBECO I), Cebu Electric Cooperative II (CEBECO II), Cebu Electric Cooperative III (CEBECO III), BANELCO (Bantayan Electric Cooperative, Inc.), Camotes Electric Cooperative (CELCO), Mactan Electric Company, Inc. (MECO), Visayan Electric Company (VECO), Bohol Light Company, Inc. (BLCI), Bohol Electric Cooperative I (BOHECO I), Bohol Electric Cooperative II (BOHECO II), and Province of Siquijor Electric Cooperative (PROSIELCO).
NORECO I was the first to receive its electrification fund, amounting to PHP4.16 million based on DOE's computation under its Energy Regulation 1-94 program, she said.
The others will follow in the coming weeks and months, she added.
Bautista said the disbursement of benefits to community partners is an "opportunity to forge a stronger partnership with them as we work together to not only provide reliable, clean, stable power to more Negrosanons but to also help them thrive" during the coronavirus disease 2019 (Covid-19) pandemic.
Section 5(i) of Republic Act (RA) 7638 (DOE Act of 1992); Section 66 of RA 9136 (EPIRA of 2001); and DOE Department Circular 2018-08-0021 require energy generation companies and/or energy resource developers to directly provide their ER1-94 benefits equivalent to one centavo per kilowatt-hour of the total electricity sales to their host communities, a media release from EDC said earlier.
The amendment is to accelerate their socio-economic development and have more efficient utilization of funds, which used to be released by the DOE.
The 50 percent of the PHP0.01/kWh benefit or PHP0.005/kWh of the electricity sales shall be allocated to the host area's electrification fund (EF). The funds should be applied to the host barangays, host municipality, host province, host region, and the distribution utility's (DU) in other prioritized areas, as approved by the DOE, the media release said.
EDC operates its 222.5 MW Southern Negros geothermal facility and its subsidiary, Green Core Geothermal, Inc. (GCGI) in Valencia, Negros Oriental.
The geothermal power firms' over 1,480MW total installed capacity accounts for 20 percent of the country's total installed renewable energy capacity.
Its geothermal facilities in Valencia, Negros Oriental has been providing clean, renewable, reliable power 24/7 to Negros Island and other parts of the Visayas region for almost 38 years. (PNA)