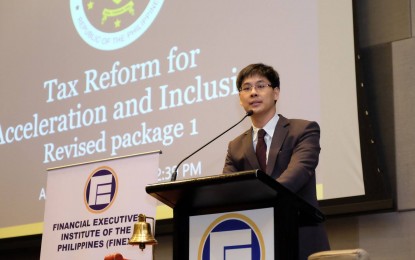 MANILA – Restrictive measures to prevent the spread of the coronavirus disease 2019 (Covid-19) have affected economies worldwide.
National Economic and Development Authority Acting Secretary Karl Kendrick Chua cited Republic Act 11534, or the Corporate Recovery and Tax Incentives for Enterprises (CREATE) Act, as one of the government's way of attracting more investments and help recoup losses.
"It is the biggest incentive that will create an estimated 1.6 million jobs," Chua said in previous statements.
The government through CREATE, Chua said, will be able to provide immediate relief to micro, small, and medium enterprises (MSMEs) and enable the Philippines to attract foreign direct investments (FDI), especially after the pandemic.
CREATE cuts the Corporate Income Tax (CIT) rate from 30 percent to 20 percent for MSMEs and to 25 percent for other corporations with retroactive application to July 1, 2020.
It includes key forms of pandemic relief, such as the lowering of Minimum Corporate Income Tax from 2 percent to 1 percent, effective July 1, 2021 to June 30, 2023.
CREATE may just be the answer to a business group's suggestion for the country to improve its foreign investment laws.
Ho Ik Lee, Korean Chamber of Commerce Philippines president, told the Philippine News Agency on Monday that of the estimated 88,000 Korean residents here who are also investors, 35,000 went home in 2020.
"They didn't know that the pandemic will be extended by this much. Until now very few of them luckily came back to the Philippines. The retail sector is mostly affected, they needed to let go of the employees and close down their stores. [From talks,] there are no chances for them to come back. Surely, it will affect the market," he said.
"Now that CREATE is enacted into law, we will provide enterprises with the largest economic stimulus package in the country's history. Immediately, it will support our efforts to restore and create hundreds of thousands of jobs and keep our businesses operating," Finance Secretary Carlos Dominguez said in a statement. (PNA)