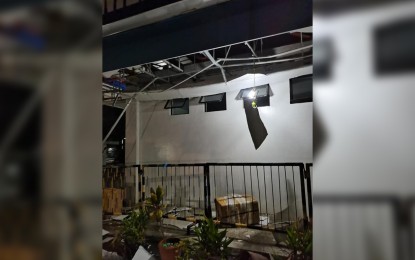 TACLOBAN CITY – The tornado that struck the city's airport here Monday night has not affected its operation, the Civil Aviation Authority of the Philippines (CAAP) reported on Tuesday.
CAAP Eastern Visayas area manager Danilo Abarreta said the tornado that hit the airport past 6:28 p.m. has damaged portions of the ceiling of the airport terminal building, broke window glasses, and toppled aircraft passenger stairs and parked vehicles.
He said the incident has not affected the departure and arrival of passenger aircraft on Tuesday.
"The damage is only minimal and we are doing an immediate repair total. The total cost of damage is only less than PHP1 million. The most important is that our operations have been restored and no one was injured in this incident," Abarreta said in a phone interview.
No passengers were waiting at the terminal when the tornado struck since the last outbound flight left for Manila around 6 p.m.
The sweeper flight of Philippine Airline carrying overseas Filipino workers landed at the airport at 8:08 p.m., Abarreta said.
The Tacloban Airport is one of the busiest airports in the country, being the gateway to the Eastern Visayas region.
Movement restrictions have reduced the number of inbound and outbound flights to only seven daily from 17 flights before the pandemic. (PNA)