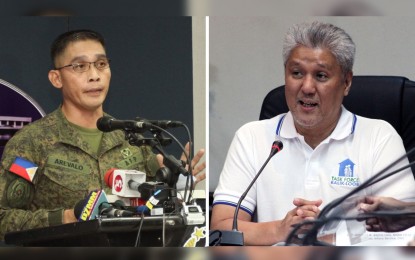 MANILA – The Department of National Defense (DND) on Friday has directed the military the investigate reports that a Filipino vessel carrying a news team of local media network ABS-CBN was chased by two Chinese missile boats off the West Philippine Sea.
"The Defense Department has directed the AFP (Armed Forces of the Philippines) through its Western Command to investigate, gather, and validate all the relevant facts on the incident, the outcome of which will be used to coordinate any appropriate action through the NTF WPS (National Task Force for the West Philippine Sea and engagement among the DFA (Department of Foreign Affairs), DND, DOTr (Department of Transportation) and other concerned agencies," Defense spokesperson Arsenio Andolong said in a statement.
He added that the DND is also concerned about the incident as it involves the safety of civilians at sea.
Reports said the ABS-CBN news team was traveling across the various reefs and shoals in the West Philippine Sea on its way to Ayungin Shoal when the incident happened.
AFP probe
Meanwhile, AFP spokesperson Marine Maj. Gen. Edgard Arevalo echoed the DND's concern over the alleged harassment by Chinese People's Liberation Army Navy and Chinese Coast Guard vessels as reported by a team of journalists onboard a watercraft within the country's exclusive economic zone (EEZ).
"Through the AFP's Western Command, we are conducting investigation and verifications to establish what transpired," he added in a statement Friday.
Arevalo said the AFP has already made representations with the ABS-CBN news reporter involved to provide them with raw footage or photographs of the incident to help the military establish the circumstances and document the incident.
Prudence
While he understands journalists' desire to keep the public informed through their coverages, Arevalo also urged them to exercise prudence in the performance of their jobs.
"The AFP is concerned with the safety and well-being of our Kababayans that we have been forthright and transparent in our reporting about the situation in our EEZ," he added.
Arevalo added that the AFP has accommodated members of media in military ships and aircraft to do their coverage so they can be protected while in the practice of their profession.
"Amidst the situation, the AFP reiterates its commitment to follow the dictates of the Constitution to protect the people and secure our sovereignty and sovereign rights," he added. (PNA)