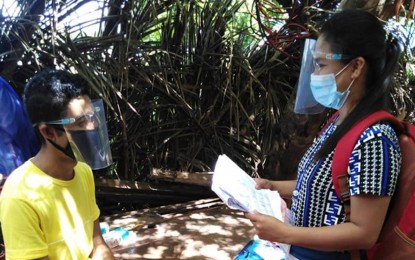 MANILA – Amid the public health crisis, the Philippine Statistics Authority (PSA) was able to accommodate more than 28 million Filipinos who participated in the Step 1 registration phase for the Philippine Identification System (PhilSys).
The data include some 17.3 million individuals who signed up for PhilSys this year.
The PSA initially rolled out the PhilSys mass registration to targeted low-income Filipinos in October last year.
Maria Loreta Umandap, a PhilSys registrant from Quezon province, said she is looking forward to easier access to government and banking services.
"Malaking tulong po talaga ito para sa amin dahil, example na lang po ang nanay ko. Siya po kahit pwede po siyang mag-apply sa ibang benefit, hindi po siya makapag-apply kasi nga po kulang lagi siya ng ID (It would be a huge help for us. An example is my mother who may be qualified to apply for other benefits but usually can't because she lacks identification)," she told PSA.
Step 1 registration for PhilSys involves the collection of demographic information such as full name, gender, date, and place of birth, blood type, and address.
The Step 2 process includes the validation of supporting documents and capture of biometric information.
Through the PhilSys, the government aims to promote ease of doing business as it will help uniquely identify each registered person at a national scale with a high level of assurance, eliminate identity fraud, and strengthen the integrity of functional identification registries.
The PSA earlier guaranteed that all information stored in the PhilSys registry will be secured and protected.
It said the national identification (ID) or the PhilID will serve as valid proof of identity in both government and private transactions.
Once an individual is done with Steps 1 and 2, the PhilID card will be issued in Step 3.
The PhilID, a non-transferable card, contains all records collected and encoded.
The national ID is free for all Filipinos.
Through PhilSys, the Philippines can move away from inefficient and expensive physical documents, processes, and credentials.
Signed into law by President Rodrigo R. Duterte in August 2018, Republic Act 11055, or the Philippine Identification System Act, aims to establish a single national ID for all Filipinos and resident aliens.
The national ID shall be a valid proof of identity that shall be a means of simplifying public and private transactions, enrolment in schools, and the opening of bank accounts.
It will also boost efficiency, especially in dealing with government services where people will only need to present the ID during transactions. (PNA)