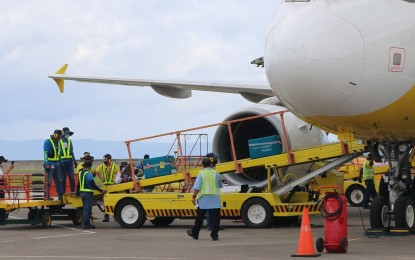 TACLOBAN CITY – Eastern Visayas region has received additional 38,400 doses of coronavirus disease 2019 (Covid-19) vaccines for more front-liners in the local government.
Jelyn Malibago, Department of Health (DOH) regional information officer, said the vaccines arrived at the city's airport around noon on Wednesday for delivery to all of the region's six provinces.
The vaccines have been transported immediately to the DOH regional office cold storage facility in Palo, Leyte.
"This will be used for the remaining priority workers in frontline health services in Eastern Visayas listed under the A1 priority group," Malibago said in a phone interview on Thursday.
Those in the A1 group are all employees of provincial health offices and provincial DOH offices, regardless of employment status; Department of Education's health care workers assigned in health and nutrition sections; employees of disaster risk reduction management offices tasked to conduct swabbing, contact tracing, and emergency transport of patients; and social workers providing social amelioration and direct services to the public.
As of April 13, about 23,471 health workers in the region have been vaccinated with the first dose while 3,607 others got the second dose.
Since March, the region has received the shipment of 80,450 doses of Covid-19 vaccines, including 66,450 doses of Sinovac and 14,000 doses of AstraZeneca.
The region has 82,047 health workers in the public and private sector listed on the priority list for vaccination categorized as group A and group A1.
"We have to make sure that all in the priority list will get vaccines given their exposure. We will proceed with the immunization of senior citizens as we receive more vaccine supplies," Malibago told the Philippine News Agency.
As of April 15, Eastern Visayas has recorded 17,195 confirmed Covid-19 cases, including 16,512 recoveries and 257 deaths. This brings the total active cases to 426. (PNA)