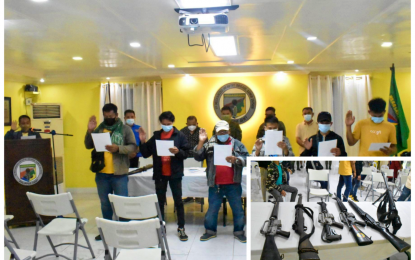 CAMP SIONGCO, Maguindanao – A sub-commander of the Daesh-inspired Bangsamoro Islamic Freedom Fighters (BIFF) and five of his followers yielded to military authorities in Maguindanao, the Army's 6th Infantry Division (6ID) announced here Sunday.
Maj. Juvymax Uy, the 6ID commander and concurrent Joint Task Force Central (JTFC) chief, said Abunawas Ibad Damiog, alias "Bayawak," commander of the BIFF Bungos faction's 4th division and deputy chief for military affairs, surrendered Saturday before the Army's 1st Mechanized Infantry Brigade's (1MIBde) headquarters in Barangay Kamasi, Ampatuan, Maguindanao.
Five of Damiog's followers, identified as Yasser Bago Abunawas, Anwar Alim Sangki, Olon Bago Abunawas, Mohammad Kanakan Ibad, and Dihan Abdul Ali, also surrendered.
The group turned over two M16 rifles with two magazines; one M14 rifle with one magazine; one M653 rifle with one magazine; one .30 caliber Garand rifle; and one homemade Barrett sniper rifle.
"They grew tired of fighting for a futile cause," Uy said. "May the surrender of Damiog be an eye-opener to his followers."
In a brief interview with Damiog, he said he just wanted to return to his family. "I miss them very much," he said in the vernacular.
Col. Pedro Balisi Jr., 1MIBde commander, said the surrender of the BIFF group was through a joint effort of the local government unit of Datu Piang headed by Mayor Victor Samama, the Criminal Investigation and Detection Group-Maguindanao, and the Army's 6th Infantry Battalion under Lt. Col. Carlie Banaag.
Since January this year, a total of 42 BIFF combatants have surrendered to the 6ID and JFTC in Central Mindanao.
A military intelligence report indicated that there are some 100 BIFF members still hiding in the mountains of Maguindanao, North Cotabato, and Sultan Kudarat provinces. (PNA)