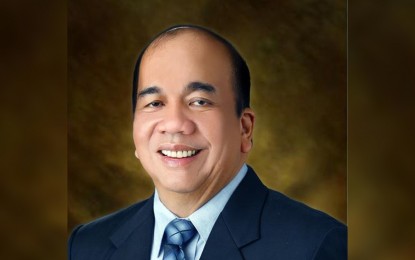 MANILA – A lawmaker on Tuesday called for a stronger information campaign to boost the people's confidence in the coronavirus disease (Covid-19) vaccination program by holding regular webinars to be aired live on government television channels and radio stations.
Cavite Rep. Elpidio Barzaga Jr. said the Department of Health (DOH) and the Department of the Interior and Local Government (DILG) have the resources to lead the online campaign in close coordination with medical experts from the private sector to promote the vaccination program.
Barzaga said holding regular webinars to be aired live on government television and radio stations will help address the vaccine confidence gap, noting that many are still hesitant to be vaccinated even if it is meant to protect an individual from getting Covid-19.
"To win our battle against Covid-19, we need to strengthen the concerted effort of our government agencies and different groups to improve people's vaccine confidence. On an individual level, this is the only way to attain herd immunity to beat the pandemic and gradually restore to normalcy," Barzaga said.
He stressed the need to increase vaccine confidence and improve the public's understanding of how it can help control the spread of Covid-19 in their families and communities.
"Little do we realize that getting vaccinated protects us and the people around us, particularly people who are at an increased risk for severe illness from Covid-19," Barzaga said. "Many people are caught between fear and hope. Let us work together to provide better answers to their vaccine anxieties. I believe any vaccine that is available is better than no vaccine at all."
Barzaga said a person who is not vaccinated against the disease is a risk to the lives of others and to the general community.
"Covid-19 is real and it has come closer to home. It has touched all of us, where every one of us has a parent, sibling, relative, friend, co-worker who has been infected by this deadly virus. There is no way to know how Covid-19 will affect an individual. A person can only have mild symptoms of cough and fever but to the unfortunate one, it can be serious and life threatening," he said.
To date, the Philippines has over 3 million doses of Covid-19 vaccines. Of this number, 2.5 million doses are from China's Sinovac Biotech Ltd. while the rest is AstraZeneca.
Data from the DOH showed that since the vaccination rollout on March 1, over 1 million Filipinos have received at least their first dose of Covid-19 vaccine.
Around 1.4 million vaccine doses have been administered as of April 17, making the Philippines third in Southeast Asia in terms of number of doses given.
As of Monday, the Philippines has 141,375 active Covid-19 cases, 788,322 recoveries, and 16,048 deaths. (PNA)