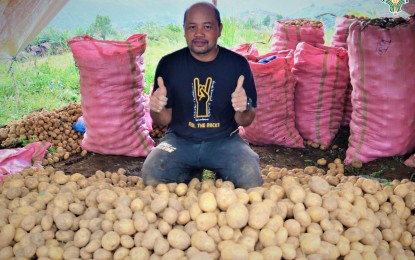 DAVAO CITY – Potato farmers in Davao del Sur village have improved the quality of their products and doubled the harvest by adopting appropriate farming technologies, the Department of Agriculture in Region 11 (DA-11) said in a statement Wednesday.
Gagpang Alegre Potato Small Farmers Association (GAPSFA) chair Carlito Palangya said that from 4,000 kilos, their members increased their yield to 8,000 kg per cropping.
Palanga's group is based in Barangay Alegre, Bansalan town.
"When DA-11 came to us, they taught us how seed quality can greatly affect crop development and yield. Before, we only used native varieties or home-saved seeds in potato farming which are susceptible to pests and diseases and produced low yield compared to the Granola seed variety, which can produce up to one kilogram of potatoes per tuber," Palangya said.
GAPSFA is a beneficiary of the Sustainable Potato Program (SPP) of DA-11 and Universal Robina Corporation (URC), the country's leading potato chip manufacturer.
Under the SPP, URC provides free high-quality Granola potato seeds imported from Prince Edward Island in Canada, a source of one of the best potato seeds in the world.
They also conducted skills training and research and development while DA-11 facilitates the identification of farmer-beneficiaries and monitoring the impact of the program on the farming community.
Meanwhile, DA-11 High-Value Crops Development Program (HVCDP) SPP Project Support Officer Ken Oliver Dungo noted that more farmers are now using Granola potato seed variety in potato production.
"The first time we came here with the DA-11 Research Chief and SPP focal Melani Provido, we can see a lot of idle spaces with very good potential for high-value crops production, but now we are so happy that more farmers have cultivated the area and the technology given produces great results," Dungo said. (PNA)