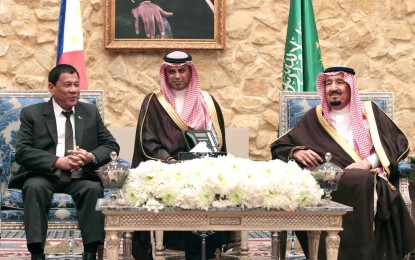 MANILA – President Rodrigo Duterte's call for the complete abolition of the Kafala system which monitors and restricts the movement of migrant workers would be his "biggest" legacy, Presidential Assistant on Foreign Affairs Undersecretary Robert Borje said on Friday.
"The President has been tireless in advocating reforms in many aspects of the lives of our overseas Filipino workers and Filipinos overseas in general," Borje said in a virtual presser. "I would have to say that this stand, this position [of President Duterte] on Kafala system would be his biggest legacy."
Borje's statement came after Duterte on Tuesday sought the complete abolition of "unjust" and "exploitative" Kafala in order to end inequities and suffering of migrant laborers.
Borje said Duterte's stance against the Kafala system has helped "pave the way for greater reforms and move reforms in a faster way."
"It is a new civil rights movement. It focuses on the laborer, not as a liability but as an investment, and more than that, as a human being imbued with human dignity," he said.
Duterte, Borje said, made the call to ensure that Filipino migrant workers are protected against all forms of abuse and exploitation.
"Our responsibility is to make sure that our Filipino workers overseas are protected and their rights are upheld and their dignity and their welfare are protected as well," Borje said.
Non-negotiable
Kafala originated from the Arabic word which means "sponsorship."
The Kafala scheme is a mechanism in the Arab states used to monitor migrant laborers, usually unskilled workers through a sponsor, including household service workers, construction workers, and service industry workers.
Under the system, the sponsor is usually the employer who is responsible for the immigration status and visa of the migrant worker. Workers are not allowed to leave sans employers' consent, making them vulnerable to abuse.
Borje said Duterte wants to deliver a message that migrant workers' rights are "non-negotiable."
"Para sa Pangulo po, ito ay isyu ng dignidad ng pagkatao (For the President, it's an issue of human dignity). When we talk about human dignity, it's something that we don't negotiate. Non-negotiable po iyan (That is non-negotiable)," he said.
Borje added that all initiatives aimed at protecting migrant laborers are "most welcome."
"And at the highest level of government, when that said by the head of government or the head of leaders, other head of leaders in government also take suit," he said.
Arab nations not blamed
Borje clarified that Duterte is not blaming the Gulf countries over irregularities in the implementation of the Kafala system.
He said the President stands ready to work in partnership with Gulf countries over the issue.
"The President has identified this not because he wanted to say na mali kayo (that they are wrong). He's also saying na may ginagawa na tama (that they are also doing the right thing) and he recognized that. But of course, a lot of things still need to be done and that can only happen if we work together," he said in a virtual presser.
Borje expressed optimism that there is a "higher" chance that the Kafala system would be completely abolished.
He, however, acknowledged that the Kafala scheme's complete abolition would not happen "very fast."
"It's not fair to say that if you think that nothing is going to happen, you're not going to say anything anymore. Again, this is a principled position of the President," Borje said. "Can it happen? Of course it can happen but it may take a while."
On Thursday, Borje said Duterte is "quietly" working with state leaders in the Middle East for the scrapping of Kafala system. (PNA)