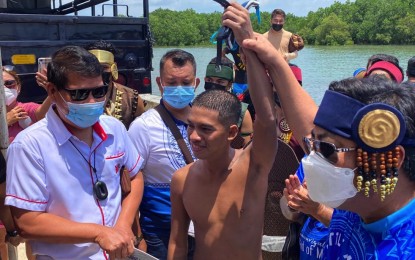 CEBU CITY – Cleevan Alegres, dubbed as Cebu's "Little Merman," has completed his swim around Mactan Island shortly before noon on Monday, making history as the first man to achieve such a feat.
Alegres, a resident of Lapu-Lapu City, finished his 42-kilometer swim at 10:37 a.m. at the Liberty Shrine in Barangay Mactan, becoming the first person to make a full swim around Mactan Island.
The 25-year-old open-water swimmer started at 5 p.m. on Sunday from the waters of Barangay Punta Engaño.
At around 10 p.m. Sunday, Alegres reached the vicinity of Barangay Maribago and was already near the roll on, roll off (Ro-Ro) port in Cordova town around midnight, Lapu-Lapu City Mayor Junard Chan said in a Facebook post.
Chan said after swimming about 20 kilometers as of early dawn Monday, Alegres made a quick stop at around 1:30 a.m. to wear his wet suit to ease the coldness and eat something.
"After more than eight hours of swimming, he had two nutrition bars and 20-30 minutes of water and hydration intervals from 5 p.m. on Sunday," the mayor said in Cebuano.
Alegres already completed 32 kilometers of swimming at around 7 a.m. Monday and was already in the vicinity of the Nuestra Señora Birhen de Regla Parish in Barangay Poblacion, Chan said.
Aside from giving honor to Cebuano hero Datu Lapulapu in line with the 500th anniversary of the Battle of Mactan, Alegres made the historic swim to raise awareness on the importance of cleaning the environment particularly the sea and preserving marine life.
Chan has expressed his continued support to the Cebuano swimmer and hoped for the latter's continued success.
Before circumnavigating Mactan Island, Alegres, last April 5, also made a successful swim around the island of Olango, a separate islet located east of Mactan Island.
He completed the full swim around Olango in 12 hours. The distance was estimated at 19-21 kilometers. (PNA)