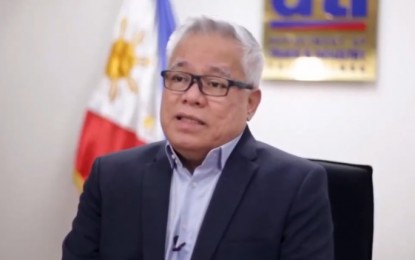 MANILA – The Duterte administration has accelerated the use of digital technology for government services to improve transactions in public offices, Department of Trade and Industry (DTI) Secretary Ramon Lopez said.
At the Sulong Pilipinas virtual forum Monday, Lopez said government agencies' digitalization efforts are aligned with President Rodrigo Duterte's directive to ease queuing in public offices by making government services available online.
Lopez said that among the key legislation during the Duterte administration is the Ease of Doing Business and Efficient Delivery of Government Service Act of 2018 or the EODB law, which aims to stop too much bureaucracy in government offices.
Last January, the Department of Information and Communications Technology (DICT) and the Anti-Red Tape Authority (ARTA) launched the first phase of the Central Business Portal (CBP), a platform where citizens and business owners can access forms and requirements necessary for business registration.
The CBP Phase 1 covers corporations registering with the Securities and Exchange Commission (SEC) and Bureau of Internal Revenues (BIR).
"Phase 1 reduced not only the forms and documentary requirements, it also shortened the processing time for SEC and BIR registration to at most three to four days from over 10 days, and also made employee reporting to Social Security System (SSS), Pag-IBIG, PhilHealth easier. The pilot phase of the CBP linked the business permit processes of Quezon City and 17 cities and municipalities," Lopez said.
He said the government targets to launch the second phase of CBP by the end of this year.
"The second phase will incorporate the "Philippine Business Number PHBN" which shall serve as a unique business ID, which can be used in transacting with any government agency," the DTI chief added.
Lopez said that since DTI launched the Business Name Registration System (BNRS), businesses were encouraged to use online payment.
Of the PHP525 million collected from business name registration last year, 68 percent were paid through online payment, higher from 35 percent in the previous year.
Through the BNRS, a business name certificate is possible to be acquired online in just eight minutes.
Digitalization efforts of the government have also helped to make government services closer to Filipinos during the coronavirus disease 2019 (Covid-19) pandemic, Lopez said.
DTI's financing arm Small Business (SB) Corp. has made available its zero-interest loan program online for micro, small and medium enterprises (MSMEs).
Through digitalization, the SB Corp. received nearly 38,000 loan applications from small businesses.
Over PHP3 billion worth of loans were released to borrowers, Lopez added.
Aside from DTI, digitalization efforts have been rolled out in different government agencies and offices such as the DICT, BIR, Bureau of Customs, Department of Finance, Bangko Sentral ng Pilipinas, Land Bank of the Philippines, Development Bank of the Philippines, and Department of Education, among others.
The DTI and its attached agency Technical Education and Skills Development Authority and the Department of Science and Technology also offer online training and other programs to strengthen the local industries and human resources.
"We have the DNA to absorb the greatest digital transformation that our strong economy has been waiting for to accelerate to levels of growth that can wipe out the poverty in our country in less than a decade. And this DNA will be nourished by our strong economic fundamentals, our continuous services exports and OFW (overseas Filipino workers) remittances, our large domestic consumption, our large and growing local economies," the DTI chief said. (PNA)