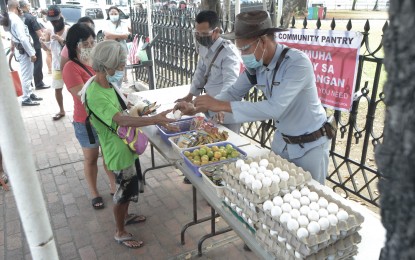 MANILA – The setting up of community pantries is an act of selfless service aimed at helping those displaced by the coronavirus pandemic, a group of church-based lay organizations said on Tuesday.
"This movement, initiated by kindhearted individuals with the common objective of helping our countrymen who are most in need but with less capabilities, is unprecedented and unequaled during this crucial time of the pandemic," the Sangguniang Laiko ng Pilipinas (LAIKO) said in a statement.
At the same time, the group recognized the people behind the different community pantries that sprouted not only in Metro Manila but also in other parts of the country.
"We also give our recognition to everyone who boldly initiated actions in selfless service right from the start of this pandemic: anonymous individuals, movie and TV personalities, churches, groups, movements, and private corporations," it said.
The group said those behind these activities just turned God's love and generosity into action and simply acted on what their faith dictates without expecting anything in return.
"From a single mustard seed, it grew and now the fruits benefit everyone," it added.
The group also urged their members to support the initiative. (PNA)