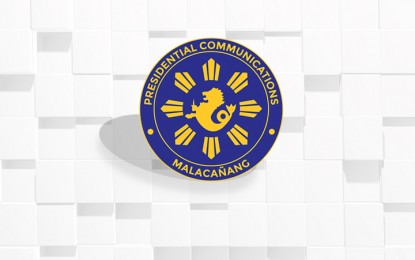 MANILA – There is nothing wrong with releasing a memorandum directing government media platforms to include global Covid-19 statistics in reports to show that the Philippines is doing better than other countries in terms of pandemic response, a Presidential Communications Operations Office (PCOO) official said on Wednesday.
News and Information Bureau (NIB) Director Virginia Arcilla-Agtay, speaking for the PCOO Integrated News Team, made the statement to confirm a circulating document, dated April 27, where government media is directed by President Rodrigo Duterte "to carry regular updates about world data on Covid-19, specifically to convey to the public that the Philippines is faring better than many other countries in addressing the pandemic."
The memo is signed by PCOO Undersecretary George Apacible and addressed to Arcilla-Agtay, Bureau of Broadcast Services (BBS) Director Rizal Aportadera Jr., Bureau of Communications Services (BCS) Director Ma. Florinda Duque, Intercontinental Broadcasting Corporation (IBC) Officer-in-Charge Corazon Reboroso, PTV-4 General manager Katherine De Castro, Philippine Information Agency (PIA) Director-General Ramon Cualoping III, and Global Media and Public Affairs Assistant Secretary Jusan Vincent Arcena.
"Yes, there is a memo directing us to give updates on world data regarding Covid-19 and to convey that we are faring better than other countries. President Rodrigo Roa Duterte is aware that government communications help achieve good governance, keep the public informed, and create a dialogue between the people and the government," Arcilla-Agtay said.
She said she sees no problem with "amplifying facts" about the Duterte administration's handling of the health crisis.
"Well aware of these roles, especially with the Covid-19 situation, the President has given the instruction in order to provide adequate information and convey working policies, particularly those that aim to address the effects of the pandemic in the country. There is nothing wrong with this, nor is it a lie, it is simply amplifying facts," she said.
She said there is a "vast" source of information from legitimate research groups that have yet to be fully reported by government media which the administration takes pride in.
"These achievements are the products of efficient methods, programs, and undertakings -- something we should take pride in and something that we should see as a result of the government's tireless efforts, especially by those in the [Inter-Agency Task Force for the Management of Emerging Infectious Diseases] and [National Task Force Against Covid-19], and by our healthcare workers and other front-liners," she said.
Rather than to proliferate fear, uncertainty, disinformation, and fake news, she said the PCOO aims to convey "positive messages" and "favorable news" to make people trust and to work with the government in fighting Covid-19.
"The President's directive is to convey these positive messages to the people and these favorable news as part of our good governance outcomes," she said.
She added that such information is expected to "give Filipinos a better and wider perspective of the real Covid-19 situation in our country."
'Amplified facts'
Arcilla-Agtay said government communication involves "not only sending out messages to the public, but also explaining working policies, and creating awareness."
"Our mission in the PCOO doesn't revolve within the metes and bounds of this directive. We have been actively promoting different communications campaigns on vaccination, quarantine measures, and other Covid-19-related responses, and we will continue to deliver positive, informative, and, most especially, factual information on our current state in our road to recovery from this pandemic," she said.
Government communications, she said, involves not only sending out messages to the public, but also explaining working policies, and creating awareness.
Citing data from the OCTA research group, she said the Covid-19 reproduction number in Metro Manila decreased to 0.89.
The reproduction number refers to the number of people who will be infected by someone who is infected with Covid-19.
She added that the positivity rate also dropped to 18 percent compared to the 22 percent recorded by OCTA in April 23 and that the group expects that in the next one or two weeks the number of Covid-19 cases per day will be less than 2,800.
She also cited data from Bloomberg and foreign posts that show that the Philippines is 4th among 10 ASEAN countries in vaccine rollout on March 1 of this year, ahead of Malaysia, Cambodia, Thailand, Laos, Vietnam, and Brunei.
Based on Johns Hopkins University Center for Systems Science and Engineering (CSSE) Covid-19 data as of April 27, she said the Philippines has a low daily confirmed Covid-19 cases per 1 million population with 78.8 next to the United Kingdom that has 34.96.
The five countries on the top five are: Germany, 238.76; Italy, 213.71; Canada, 211.42; India, 209.13; and US, 162.20.
She also cited data from Worldometers which showed that the Philippines' 9,150 total cases per 1 million population, 153 deaths per 1 million population, and that we have conducted 104,576 tests per 1 million population.
Data from the statistical report of Worldometers showed that the Philippines is 28th out of more than 200 countries and territories in the number of Covid-19 tests conducted, she added.
The Philippines also placed at the 116th spot for Covid-19 mortality per 1 million people, she said.
As of April 27, she said the Philippines has vaccinated more than 1 percent of our population with 1,809,801 doses of vaccines administered and has been able to achieve a recovery rate of more than 90 percent of our total cases.
She noted that such information is "fulfilling and rewarding, and are things that the people should know."
"Regionally and globally, we have achieved a reputable and efficient response to the virus as compared to some developed, more advanced, and less densely-populated countries," she added. (PNA)