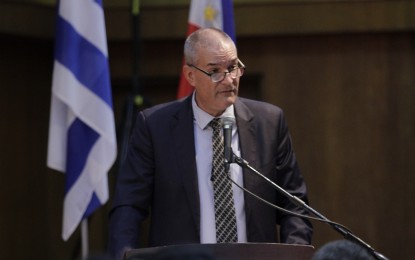 MANILA – The Philippines can expect to be among the priority countries of Israel once the latter is able to transfer its excess vaccines for coronavirus disease 2019 (Covid-19), Israel Ambassador to Manila Rafael Harpaz said Friday.
Harpaz explained that Israel, for the time being, could not transport its extra vaccine doses to any third country due to some legal issues in its contract with Pfizer.
"It has nothing to do with the Philippines. Israel, for the time being, was not able to give vaccines to a third country because we have a contract and there are limitations on giving it to a third party," he told the Philippine News Agency (PNA) in an interview on Friday.
Aside from Manila, more than 10 countries have also expressed interest in purchasing their excess vaccines, Harpaz said.
"It's something we are looking generally in a favorable manner but it's the legal issues that must be resolved first. But it's one of the issues in the discussions and when the moment that there would be a green light to give (the vaccines) as assistance to third countries, the Philippines will certainly be among them," he said.
"The Philippines is definitely a high priority for us once we're capable of giving away the vaccines."
In the meantime, the envoy said Israel would continue supporting Manila by sharing its best experiences and technologies that enabled them to flatten their Covid-19 curve.
He said the embassy is also hoping to bring a delegation of Israeli experts to Manila to share knowledge in the areas of vaccination and Covid-19 testing.
"Life is very normal in Israel, you can go to sports events, you can go to rock concerts, although there are still some limitations, schools are also running normally. So whatever we can do to share our experiences, our know-how, our technology, we are doing it and we will do it with the Philippines," he said.
Harpaz also assured that Filipino workers in Israel are included in its vaccination program, about 30,000 of whom have already received their shots. (PNA)