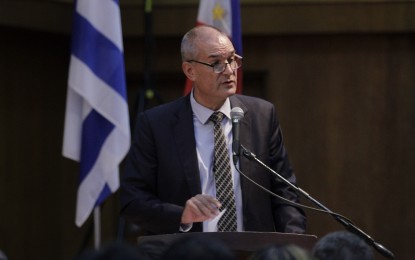 MANILA – Direct flights between the Philippines and Israel before the end of the year are in the pipeline, Israeli Ambassador to Manila Rafael Harpaz said Friday.
"We would like very much for the Filipino tourists to be back to Israel. The Philippine Airlines already informed us that they are planning to start a direct flight to Israel towards the end of the year," Harpaz told the Philippine News Agency (PNA) in an interview.
There's no timeline yet when tourism exchanges between the Philippines and Israel would resume, but he said the deployment of Filipino caregivers continues despite the pandemic.
"Actually, every day we see new caregivers because there is a demand. So they are flying to Israel and when they get there, they also get the vaccine immediately," Harpaz said. "We don't have a quota (on deployment) but it depends on the demand. Because our population is getting older and older, the demand is getting high. We also have from other countries but the demand is high for Filipino caregivers."
In 2019 alone, about 35,000 Filipino tourists visited Israel, while more than 30,000 overseas Filipinos are working there as caregivers.
'Tourism restart'
At present, there is no agreement between the Philippines and Israel for a travel bubble setup, but Harpaz said he is hopeful that the two nations' tourism exchanges would soon resume.
He added that several Filipino tour operators are interested to bring travel groups once Israel fully reopens.
"They're waiting. There's so many tour operators in the Philippines who are eager to take groups to Israel because it's a big tourist destination for Filipinos," Harpaz said. "The Israelis are also eager. The businessmen are eager to return to the Philippines. They want to go to Banawe, Palawan, Siquijor, and all those wonderful places. Let's hope that it will soon work out."
Israel is opening up its borders to foreign tourists under a travel bubble setup, with the vaccinated population no longer required to undergo a long period of quarantine.
But for now, the vaccines that Israel recognizes for this arrangement are Pfizer and Moderna.
It has so far signed a travel bubble agreement with Cyprus and Greece.
"We are moving slowly with more countries because we want to have tourism back and business back," he said.
'Flattening the curve'
Israel's slow reopening of tourism is made possible with the continued decrease in its active coronavirus disease 2019 (Covid-19) cases as more citizens get inoculated.
Harpaz noted that calculated pandemic response and vaccination are among their key tools in curbing the spread of the virus.
Israel has only about 1,500 active infections out of its more than 830,000 cases since the pandemic started.
"Social distancing is one thing but the bottom line is the vaccination and also to have clusters. At the peak of (the pandemic), we identified specific towns and cities that have very big numbers so then you put a stricter restriction, which is also very similar to what we have here (in the Philippines)," he said.
He added that Israel is also planning and has secured 16 million more doses of vaccines for 2022, considering the emerging Covid-19 variants.
"The economic growth is promising, including the collection of taxes," Harpaz said. "The projection is good but I think we should still be very cautious. Covid is here to stay, that's why the Israeli government signed last week a contract with Pfizer and Moderna to purchase another 16 million doses. Not for now, we have enough now, but for 2022."
In Israel, he said, businesses and offices are now operating at almost full capacity, with restrictions "being lifted day after day." (PNA)