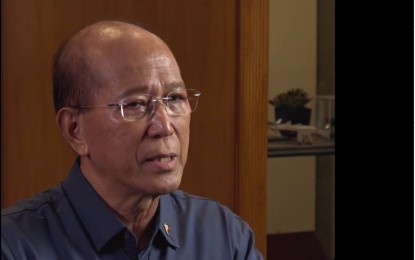 MANILA – Department of National Defense (DND) Secretary Delfin Lorenzana dismissed claims that his recent statements on the Chinese incursions in the West Philippine Sea (WPS) are not aligned with those of President Rodrigo R. Duterte.
In a statement to reporters Sunday, he said the Chief Executive's orders to the defense department regarding the WPS have been very "firm and straightforward" and that is to defend the country's possessions without going to war.
"President Duterte's orders to us have been very firm and straightforward: defend what is rightfully ours without going to war and maintain the peace in the seas. Yung nagsasabi na hindi kami align ng Presidente (those saying that our statements are not aligned with the President). let me clarify that my pronouncements echo the stand of our President and Commander-in-Chief," Lorenzana added.
And as part of the Philippines' long-standing and multi-faceted relationship with China, he said both nations maintain cooperation in various areas that are mutually beneficial to the Filipino and Chinese people.
"We can be cordial and cooperative with other nations but not at the expense of our sovereignty and sovereign rights," he added.
While mindful of China's far more superior military capabilities, Lorenzana said this knowledge does not deter them from defending national interest, and dignity as a people, with all available resources or assets.
"Thus, the conduct of maritime patrol in the WPS and Kalayaan Island Group by the Philippine Coast Guard and the Bureau of Fisheries and Aquatic Resources will continue. The government will not waiver in its position. Walang alisan (There is no leaving)," he added
Also, the latest developments have made it clear that there is a need for all stakeholders to cooperate.
"They can now take this as an opportunity to advance the values and principles we collectively affirm and profess to respect - including the peaceful settlement of disputes - as partners and as signatories to UNCLOS (United Nations Convention for the Law of the Sea) and all relevant international instruments," he said.
Earlier, Lorenzana said China has no legal basis to prevent the Philippines from conducting maritime exercises in the WPS.
"They have no authority or legal basis to prevent us from conducting these exercises within the WPS. Atin yan (That is ours)," he said.
This came following China's calls to stop the ongoing maritime exercises of the Philippine Coast Guard and the Bureau of Fisheries and Aquatic Resources, noting that such actions are "complicating the situation and escalating the disputes".
He added that Beijing's "historical" claims on the West Philippine Sea have no basis.
"Their claims according to their so-called historical rights have no basis while we have two international documents saying the area is ours: the UNCLOS of which China is a signatory and the Arbitral Award of 2016," he added.
UNCLOS, he said, gave the Philippines sovereign rights to explore the natural resources of an area that is 200 nautical miles away from the mainland.
"The Arbitral Award has categorically stated that the Chinese claim bounded by their so-called nine-dash line according to their 'historical right' has no basis in fact. Therefore, it is they who are encroaching and should desist and leave," he added.
He opposed China's claims that Philippine maritime exercises are "complicating the situation and escalating disputes", saying it is the other way around.
"Walang basis 'yung nine-dash line nila, according to an international tribunal, sila ang nagko-complicate ng situation by insisting to stay within our WPS (Their nine-dash line has no basis according to an international tribunal, they are the ones complicating the situation by insisting to stay within our WPS)," he added. (PNA)