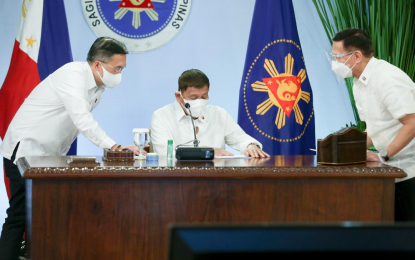 MANILA – President Rodrigo Duterte on Wednesday night ordered the withdrawal of Covid-19 vaccines developed by Chinese state-owned pharmaceutical company Sinopharm.
Despite having received the first dose of the vaccine brand himself, Duterte said he told an "ambassador" that he wanted the vaccines pulled out over concerns that the Sinopharm vaccine has yet to be cleared for emergency use by the Food and Drug Administration (FDA).
"Just before this meeting started, I had a talk with the ambassador. Sabi ko sa kanya, 'Ang mga experts nagsabi na, o wala pang ano ito, 'di pa dumaan ng examination sa atin. Ang binigay lang (I told him, 'Experts are saying it did not go through examinations here. They just gave it) compassionate use which is really a legal excuse.' Compassionate use. Ibig sabihin, magamit mo (This means you can use it).Compassionate. Kaya lang (But), maybe it's not acceptable to them but it's legal actually," he said in a public address.
Duterte did not identify the ambassador but might have been referring to Chinese Ambassador Huang Xilian.
"Sabi ko (I said) 'Tanggalin mo nalang, you withdraw all Sinopharm vaccines. One thousand of them. Huwag ka nalang magpadala ng Sinopharm dito parang walang gulo (Don't send Sinopharm vaccines here so there's no issue)," he added.
Some medical experts, he said, are also concerned over the "dangers" of Sinopharm's use. A Chinese vaccine expert earlier referred to Sinopharm as the "most unsafe vaccine in the world," after it was found to produce 73 side effects.
"The fact that may konting ano na hindi dumaan, para walang ano, tanggalin nalang natin (The fact that there are some concerns that it did not go through examination so that there's no issue, let's just pull them out)," he said.
He then asked the envoy to provide Covid-19 vaccines produced by another Chinese drugmaker, Sinovac Biotech: "Bigay mo nalang sa amin yung Sinovac na ginagamit sa lahat (Just give us Sinovac being used by everyone)."
The Philippines has already received 3.5 doses of Sinovac's CoronaVac Covid-19 vaccine, including 1 million doses donated by the Chinese government.
He said removing Sinopharm from the country's current Covid-19 vaccine supply would not have much of a difference.
"One thousand vaccines lang 'yan (It's only a thousand vaccine doses). It would not make a dent sa (in our) supply," he said.
Malacañang earlier said China donated an additional 1,000 doses of Sinopharm Covid-19 vaccines in addition to the 10,000 doses expected to be donated to members of Duterte's close-in security detail.
Apology
Duterte also apologized over criticism that he received Sinopharm, saying he "accepted" that the drug has yet to receive an emergency use authorization (EUA) from local regulators.
"We are sorry that we committed the things that you are criticizing us for. We accept responsibility. At ako mismo nagpaturok (I got myself vaccinated) it's the decision of my doctor. Anyway it's my life," he said.
He acknowledged that he received his first dose of Sinopharm on Monday, but noted that it is better to avoid issues by withdrawing the said vaccine.
"You are right, we are wrong. Ang Sinopharm maybe tomorrow or the following day, wala na 'yan (Sinopharm will be gone by tomorrow or the following day). I made it as a personal request," he said.
He, however, insisted that his use of Sinopharm is "legal".
"When the government allowed it to be used for compassionate use, that itself was an authority for people to be injected. Pero kokonti lang ang naturukan nito (But only a few have been vaccinated with this)," he said.
Don't follow suit
Since the Sinopharm vaccine has yet to receive an EUA, he urged the public not to get inoculated with the same brand.
"Huwag kayo sumunod sakin. Delikado walang studies, baka hindi maganda sa katawan. Hayaan mo nalang ako mag solo. Huwag kayo gumamit, sabi ng mga doktor kasi wala pang…Pero yung akin compassionate [use] (Don't follow my footsteps. It's dangerous because there are no studies, it might not be good for the body. Just let me be the sole person to receive it. Don't use it because doctors are saying…But I got mine from compassionate use)," he said.
Duterte, meanwhile, questioned why Sinopharm managed to secure a permit for compassionate use if studies showed it is dangerous to use.
"Bakit pumasok sa Pilipinas kung hindi maganda yung medisina na 'yan at bakit binigyan ng compassionate use kung hindi mo pala magamit (Why was it allowed to enter the Philippines if the medicine is not good and why was it given compassionate use if we can't use it)?" he said.
On March 19, FDA Director-General Eric Domingo said Sinopharm has not yet submitted an official application for EUA but two local distributors have manifested their intent to apply for EUA.
The Palace on Tuesday described the process of giving Sinopharm clearance for emergency as "grossly delayed." (PNA)