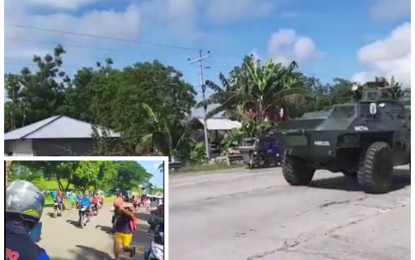 CAMP SIONGCO, Maguindanao – About 200 heavily-armed members of the Bangsamoro Islamic Freedom Fighters (BIFF) seized the public market of Datu Paglas, Maguindanao at 4 a.m. on Saturday.
Lt. Col. John Paul Baldomar, speaking for the 6th Infantry Division, said the BIFF under the Kagui Karialan faction occupied the town's public market and established a defensive position there.
The rebels also prevented vendors and civilians from leaving.
Baldomar said the Army and the police have surrounded the area where the BIFF rebels were located.
Hundreds of motorists and passengers were also stranded as the Datu Paglas-Tulunan highway was closed to traffic since 4:30 a.m.
"The local government unit and its leaders are now negotiating with the BIFF," he said, adding that when necessary, the military would use force to flush the BIFF from the market.
Abu Jihad, speaking for the BIFF, confirmed that the gunmen who occupied the town public market belonged to the Kagui Karialan faction.
Jihad did not respond to questions from reporters through a mobile phone on why they occupied the public market.
A cargo truck was used by the gunmen to block the national highway leading to the town public market.
Datu Paglas Mayor Toy Paglas said negotiations for the withdrawal of the armed men were ongoing.
As of 9 a.m., sporadic gunfires were heard in the Poblacion while civilians milled at the sides of the national highway.
Armored personnel carriers from the Army's 601st Infantry Brigade were seen moving toward Datu Paglas while two helicopter gunships hovered overhead. (PNA)