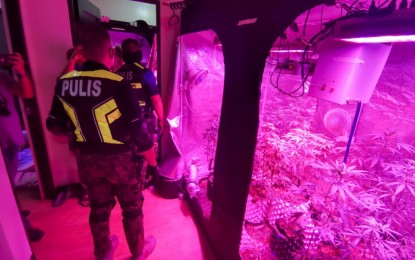 MANILA – Authorities busted on Thursday a marijuana greenhouse at a posh condominium unit in Taguig City.
National Capital Region Police Office (NCRPO) chief, Maj. Gen. Vicente Danao Jr., identified the suspects as Raul Antonio Cisneros, a retired US Air Force serviceman, and his common-law wife Meljie Maquiling, 28, during the buy-bust by local police and agents of the Philippine Drug Enforcement Agency (PDEA) at the Royal Palm Residence Acacia Estates in Barangay Ususan.
He said the operation stemmed from intelligence information regarding the illegal cultivation of cannabis by the suspects in their condominium unit.
A week-long surveillance on the house of the suspects revealed that they have been utilizing the unit as a greenhouse of marijuana and kush, he said.
The suspects were arrested after selling three sealed transparent plastic sachets containing dried kush (high-grade marijuana) in exchange for PHP5,000 marked money.
The operatives seized suspected kush worth more than PHP2.2 million and suspected shabu worth PHP95,000.
Also recovered during the operation were pots of marijuana plants and several pieces of equipment.
Cisneros was previously arrested and charged with possession of ecstasy tablets by the Taguig City police in 2019.
Danao said the arrested suspects are connected to a lot of drug pushers operating within the area of Makati, Taguig, other areas of Calabarzon and nearby regions.
The suspects will be charged with the violation of Republic Act 9165 or the Comprehensive Dangerous Drugs Act of 2002. (PNA)