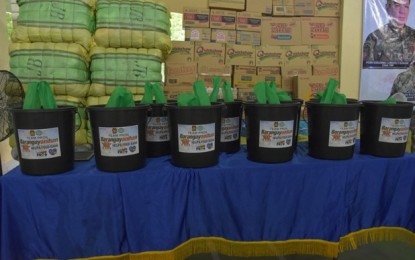 ILOILO CITY – The Philippine National Police's (PNP) "Barangayanihan" has served 71,060 families in Western Visayas as of May 12.
Various police units have conducted 1,530 activities from more than 680 kiosks across the region, the Police Regional Office (PRO) 6 (Western Visayas) said during the simultaneous nationwide launch of the expanded "Barangayanihan Help and Food Bank" on Friday.
"More than PHP5.9 million worth of donated goods were distributed in all these activities so far. These goods were from the 4,445 generous groups and individuals," Lt. Col. Joem J. Malong, chief of PRO-6's public information office, said in a statement.
Meanwhile, simultaneous with the launch, 10 recipients composed of vendors and pedicab drivers among others, received gift packs containing canned goods, rice, milk, and health kit from PRO-6 Director, Brig. Gen. Rolando Miranda.
Malong said the recipients of the ceremonial distribution were chosen by the Regional Police Community Affairs Division from Barangay Concepcion, City Proper district where the camp is located.
He said Miranda also expressed his gratitude to stakeholders who donated food to the PRO-6 food bank.
The donations will be distributed during the various activities that will be undertaken by the division.
The nationwide launch of the "Barangayanihan Help and Food Bank" in Camp Crame, Quezon City was led by PNP Chief, Gen. Guillermo Lorenzo T. Eleazar, and joined by police regional offices via zoom and Facebook live.
Eleazar said the "Barangayanihan" is the PNP's contribution to localized efforts to reach out and provide assistance to every Filipino as an anti-hunger drive.
Conducting such drive has long been practiced by the PNP through its community relations services, such as a feeding program, food bank, and "Kapwa Ko Sagot Ko".
"Barangayanihan" will serve as a template for the partnership between the police and community, including business groups, entrepreneurs, and other stakeholders, he added. (PNA)