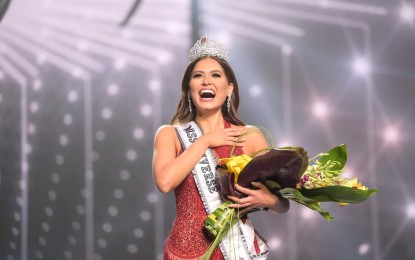 MANILA – Mexico's Andrea Meza beat 73 other candidates to take home the 69th Miss Universe crown and her country's third at the Seminole Hard Rock Hotel & Casino in Hollywood, Florida on Sunday (Monday, PH time).
The 26-year-old Meza succeeded South Africa's Zozibini Tunzi, who was the longest-reigning queen due to the Covid-19 pandemic, holding on to the title for more than a year since being crowned on Dec. 8, 2019 also in the US.
The Philippine candidate, 24-year-old Rabiya Mateo of Iloilo City, made it to the Top 21.
During the question-and-answer round, Meza was asked by Miss Universe 1997 Brook Lee: "If you are the leader of your country, how would you have handled the Covid-19 pandemic?"
"I believe there's not a perfect way to handle this hard situation such as Covid-19. However, I believe what I would I've done was create a lockdown even before everything is that big. Because we lost so many lives, we cannot afford that – we have to take care of our people, that's why I would have taken care of them since the beginning," Meza answered.
She also captured the judges' attention in the final round of the coronation night with her final statement on changing beauty standards, delivering it in her native language.
"We live in a society that more and more is more advanced and as we have advanced as a society, we have advanced with stereotypes. Nowadays, beauty is not only the way we look. For me, beauty radiates not only in our spirits, but in our hearts and the way we conduct ourselves. Never permit someone to tell you that you are not valuable," she said through an interpreter.
The previous winners from Mexico were Lupita Jones in 1991 and Ximena Navarrete in 2010.
Iloilo's pride
Mateo, who was born in Balasan town and studied Physical Therapy at Iloilo Doctors' College, received support from her city.
"The Ilonggos are very proud of what Miss Universe Philippines Rabiya Mateo has achieved. Being in the competition is truly tough but the Ilongga beauty queen gave her best for our country. We extend to her the warm love of the Ilonggos as we look forward to welcome her home," Mayor Jerry Treñas posted on Facebook.
Earlier, Treñas appealed to teachers and employers to give consideration to their students and employees who might be late after watching the pageant.
"This is just a request of one Ilonggo to another," he wrote.
Other top finishers
Meza's court are first runner-up, Julia Gama of Brazil; second runner-up Janick Maceta of Peru; third runner-up Adline Castelino of India; and fourth runner-up Kimberly Jimenez of the Dominican Republic.
The other five in the Top 10 were Miqueal-Symone Williams (Jamaica), Maria Thattil (Australia), Estefania Soto (Puerto Rico), Amanda Obdam (Thailand), and Ivonne Cerdas (Costa Rica). (PNA)