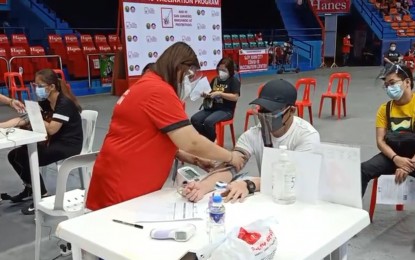 MANILA – A health official said Monday there is no evidence that smokers and persons taking contraceptives and anticoagulants are more prone to blood clotting disorder after receiving an AstraZeneca shot.
During an online media briefing, Health Undersecretary Maria Rosario Vergeire said there are no known predictors for blood clotting disorder as adverse event after taking the first dose of AstraZeneca vaccine, as reported by the Food and Drug Administration and the Philippine Society of Hematology.
She was reacting to a social media post circulating online, warning smokers and users of contraceptives and anticoagulants that they are prone to blood clotting.
Vergeire said no known predictors mean that such adverse event after getting a vaccine shot happens by chance because it is an autoimmune mechanism.
"We will be debunking this social media card or this Facebook post just to enlighten our fellowmen that there is nothing to worry about regarding this AstraZeneca vaccine," Vergeire said.
Blood clotting occurs when certain elements in the blood thicken and stick to each other, forming a semi-solid mass. It can occur as a side effect of other common medications, such as birth control, during pregnancy and due to smoking.
"This is a very, very rare occurrence or adverse event na nangyari sa ibang bansa pero dito sa ating bansa wala pang nangyayari na ganitong adverse event na blood clotting (which happened in other countries but blood clotting as an adverse event has not happened in our country)," she added.
Early last month, the Philippines paused its use of the AstraZeneca vaccine for those below 60 years old following reports of blood clotting disorders in other countries.
This month, the vaccine's use was allowed to continue for all ages eligible -- 18 years old and above -- since the benefits of receiving it outweigh the risk according to experts.
"Kailangan lang magkaroon na kapasidad (However, there must be a capacity) for early detection of this specific adverse event and also early confirmation," Vergeire said.
To confirm the blood clotting event, experts have advised that laboratory tests must be done and the health system should be ready to manage it.
On May 8, the country received over 2 million doses of AstraZeneca through the COVAX Facility. Currently, these vaccines are administered to healthcare workers, senior citizens and persons with comorbidities nationwide. (PNA)