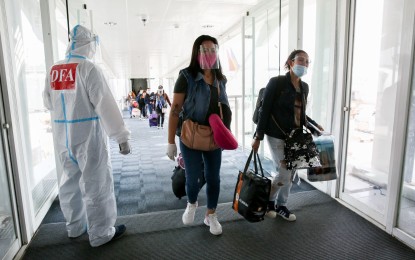 MANILA – The government has committed funds worth PHP5.2 billion for the continuing repatriation of overseas Filipino workers (OFWs) displaced by coronavirus disease 2019 (Covid-19) pandemic.
OWWA chief Hans Leo Cacdac, in a virtual presser on Monday, said they are now coordinating with the Department of Budget and Management (DBM) regarding the release of the funds.
"We are already working with the DBM for the release of the budget hopefully this week. But of course, it involves paperwork, accounting paperwork that we need to comply with so we are coordinating right now with the DBM for the arrangement of the release of the funds," he said.
The funds will be used to pay for the hotel accommodation, food, and transportation of affected OFWs, Cacdac said.
He said the additional funding will be able to accommodate more OFWs until the fourth quarter of this year.
"Well, the PHP5.2 billion is good maybe the early part of the fourth quarter. We're only in the month of May, we're not yet in the fourth quarter. So we are good in that sense. There will be more time for further coordination with the DBM and further project our cost," Cacdac added.
He reported that 9,300 OFWs who have returned to the country are now under quarantine in 160 hotels and are awaiting the results of their swab tests.
He said the quarantine time of Filipino workers in these facilities has been extended to 10 days from seven to nine days as approved by the Inter-Agency Task Force on Emerging Infectious Diseases (IATF-EID).
He added that the OFW will be tested on the seventh day under quarantine with the results expected to be released on the ninth day.
Once they test negative, the OFWs would be then be transported back to their hometown on the tenth day.
Those who are bound for Luzon, they will be brought to Parañaque Integrated Terminal Exchange (PITX) while those who are going to Visayas and Mindanao they will be brought to the Ninoy Aquino International Airport.
Cacdac added that some 545,000 have been transported back to their home provinces.
"As of today, a total of 545,000 OFWs have been transported to their home regions courtesy of DOLE (Department of Labor and Employment)-OWWA and the inter-agency effort mandated by the president, the DOTr (Department of Transportation), DFA (Department of Foreign Affairs), DILG (Department of the Interior and Local Government), DND (Department of National Defense) and DOH (Department of Health)," he said. (PNA)