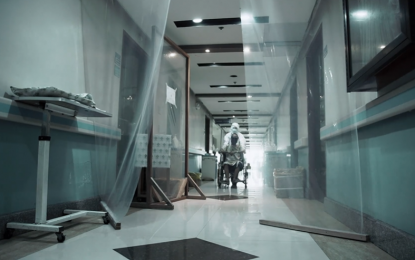 MANILA – A health official on Monday reported a downward trend in the utilization rate of intensive care unit (ICU) beds as the government continues to allocate more beds for coronavirus disease 2019 (Covid-19) patients in the National Capital Region (NCR).
"Some of the hospitals, especially here in Metro Manila have allocated more beds, transforming part of their isolation beds into critical beds, and we also opened up the modular field hospitals to take care of the critical situation," Health Undersecretary and treatment czar, Dr. Leopoldo Vega said during a television interview.
Vega noted that ICU bed occupancy in the NCR Plus is at 61 percent while the healthcare utilization rate is at 50 to 51 percent, putting the region at "low risk".
"We hope to see that the intensive care units will really go down to the low-risk category that is below 60 percent," he said.
"That would mean we have a robust kind of health system that we are capable of handling any kind of surge," he added.
The ICU utilization rate in the NCR reached 84 percent on April 18.
On Monday, the DOH reported that 56 percent of 700 ICU beds, 41 percent of 3,800 isolation beds, 46 percent of 2,200 ward beds, and 42 percent of 800 ventilators dedicated to Covid-19 patients are in use in the NCR.
With the easing of community quarantine, Vega reminded the public not to be complacent about the general community quarantine status (GCQ) as it comes with heightened restrictions.
"It is really a calibrated approach so that people will not feel complacent that they are now free to do more things because as you see, the virus is still there, there are cases of variants still being reported, and we need to detect and isolate as fast as we can in less than three days to suppress the spread of the virus," Vega said. (PNA)