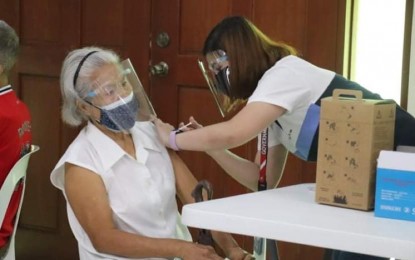 MANILA – President Rodrigo Duterte has expressed support to the proposal to start the vaccination of poor Filipinos against the coronavirus disease 2019 (Covid-19).
This, after National Task Force (NTF) Against Covid-19 chief implementer and vaccine czar Secretary Carlito Galvez Jr. told Duterte during a meeting at Malacañan Palace in Manila on Monday night that Covid-19 inoculation among the indigent population should begin "as soon as possible."
Duterte agreed with Galvez and said the government may opt to vaccinate the poor within their respective communities.
"Unahin ninyo ang mahihirap (Prioritize the poor). If there is difficulty in getting them out of their respective communities, kayo na ang papasok doon (you may enter there). Enter the place and do the vaccination there," he said in his pre-recorded speech televised on Tuesday morning.
During the meeting, Galvez said the vaccine vials from Covid19 Vaccines Global Access (COVAX) Facility could be administered to the poor Filipinos.
The Philippines has so far secured 44 million Covid-19 vaccine doses from the COVAX Facility.
Based on Galvez's presentation, the government has yet to administer Covid-19 vaccines among individuals who belong to the poor sector.
To date, around 3,001,875 vaccine doses have already been administered nationwide.
Some 2,282,273 individuals have already been inoculated against Covid-19.
Around 719,602 of the 2,282,273 individuals have already been fully vaccinated.
Be last in line for vaccine, well-off told
Amid plan to start the inoculation of poor Filipinos, Duterte asked the rich people to be the last in line for Covid-19 vaccine.
Duterte made the appeal, as he acknowledged that well-off families have the capability to protect themselves against Covid-19, unlike the underprivileged individuals who are at risk of acquiring the coronavirus.
"Itong sinasabi ko na mga [nasa] subdivision, kung may subdivisions na medyo nalagay sa upper, pahuli muna kayo (To those who are living in the subdivisions, be the last in line)," he said. "Samantalang itong naman mga squatter, ang bahay nila dikit-dikit so the transmission is really as fast as the virus can travel (However, the transmission is really as fast as the virus can travel for those who are living in slums)."
Duterte assured rich families that there will be "no discrimination" and that they will get the vaccines "in due time."
He also told them not to hold grudge against the government, because he only wants to fulfill the government's "sacred duty" to look after the poor who "tend to forget" health and quarantine protocols and have no money to help them cope amid the prevailing Covid-19 pandemic.
"May reason ako diyan. Hindi sabihin mo na may galit ako or ayaw ko purposely (I have a reason. It's not because I'm mad at you or I don't want you to receive the vaccine purposely). It's not that. It's the way where you find yourself in life na (that) you must consider. We're all human beings," Duterte said.
Don't be choosy on vaccine brands
Duterte also reiterated that Filipinos cannot choose a specific Covid-19 vaccine brand.
He issued the statement, as he told them that all Covid-19 vaccines are "potent and effective."
"There's no reason for you to be choosy about it," Duterte said. "Kung ano ang nasa harap ninyo, 'yun na. Do not ask for a special kind of [vaccine] kasi bulto por bulto iyan dito. Hindi namimili iyan (Accept what is given to you. Do not ask for a special kind of vaccine because that is distributed to your area. You cannot choose)."
Duterte said Galvez would distribute Covid-19 vaccines "with a blind eye for a brand."
"Hindi ka mamili. Ang mamili si Secretary Galvez (You cannot choose. Only Secretary Galvez can choose). And Secretary Galvez will make the distribution with a blind eye sa (for the) brand," he said. (PNA)